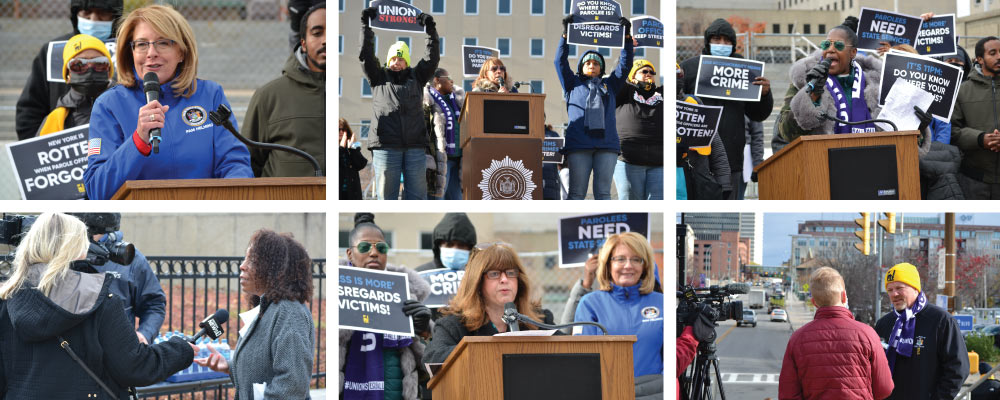 ROCHESTER, N.Y. — PEF parole officers and victims' advocates rallied outside the Hall of Justice in Rochester November 22 to denounce the "Less is More" parole reform law and call out its serious repercussions for community safety, parole supervision and crime victims.
"Less is More requires that we turn our eyes away from those who are still serving their court-imposed sentences, who continue to demonstrate behaviors that negatively impact themselves, their families and the community," said Division 236 Council Leader and 16-year parole officer, Gina Lopez. "Language like 'simple technical violation' is misleading. All violations of parole are technical violations, except a new arrest. Parole violations are not meaningless. This law removes all meaningful consequences and accountability for parolees."
The "Less is More" bill unilaterally prohibits parole officers from using their experience, training and knowledge to protect communities from parolees who are willfully and despite repeated warnings continuing down a path toward re-violating the law. It irreparably harms the rehabilitation process for many parolees and eliminates the authority of parole officers to counsel or issue violations for issues such as illegal drug use, alcohol use, skipping curfew and failing to report.
"We supervise approximately 34,000 New Yorkers on parole with only 800 parole officers across the state," Lopez said. "Sixty percent of parolees are convicted of A1 violent felonies, such as assault, robbery and criminal possession of a weapon."
Parole officers face staggering caseloads, with one parole officer responsible for supervising 48 parolees. Less is More does nothing to mitigate those caseloads and fails to fund or restore mental health, alcohol and drug treatment, job placement and other services that parolees desperately need for successful reintegration into the community.
Current sentencing guidelines require all parolees be afforded the same level of supervision, regardless of individual circumstances. Less is More does not address the need for change allowing expertly trained parole officers to dedicate appropriate resources to the parolees with the most need.
"What we're fighting for is life and death," said PEF President Wayne Spence, a longtime parole officer. "PEF believes meaningful parole reform must impact all aspects of reintegrating parolees into their communities. That includes providing adequate funding for low-cost education, technical training, mental health and wellness, addiction services and housing. PEF would like the state to consider amending its sentencing guidelines, which have not changed since 1995 and review the legislative risk assessment process that too often saddles parole officers with high caseloads."
Victims matter
Less Is More is also a slap in the face to crime victims.
"Less is More means less accountability, more fear, more trauma and a growing awareness that the scales of justice are becoming very unbalanced," said Patricia Huntington-Sigel, a victim advocate in the Rochester area for 35 years. "Fewer victims are taking part in the system. We as a people are heading in the wrong direction and more victims and citizens will choose not to participate.
"This sends a bold message to victims, witnesses and law-abiding citizens," she said. "We need to include the voices of victims and advocates when making sweeping changes to the law. Parole is not a right – it's a privilege."
It's a consequence
Less is More is meant to benefit parolees, but for many it amounts to a disservice.
Randy Cimino, on parole for 30 years and now the president of Gates to Recovery, an addiction services group in the Rochester area, said he wouldn't be attending the rally if it wasn't for his parole officers and their dedication to their jobs and their parolees.
"If it wasn't for parole, I wouldn't be standing here today," he said. "Every one of my parole officers was a pain in the ass, but without them I wouldn't be here and able to live by the rules. When you get out of jail, you are not free. Parole is part of your sentence. This isn't helping them. You've got to stop this law before more men and women are dead."
Parole Officer Gabriela Franklyn, the assistant council leader of Division 236, reminded attendees that parole is a consequence that needs to be in place to protect the community and parolees.
"When community safety is at risk, what do we do? We fight back," she said. "Where is it ever the case that you can commit a crime and think that you don't have a consequence? Community supervision is a consequence. Parole officers are the unsung heroes who promote community safety. We're going to stop the lie. Victims matter."
Legislative support
New York Senator Pam Helming, who represents District 54 east of Rochester and voted against the legislation, said: "Less is More; what a joke. It's another radical bill that's been passed in Albany that caters to criminals but does nothing to keep our community safe. This bill provides no funding for resources like drug treatment or behavioral health services. It provides nothing."
"The Less Is More act is well intentioned, and it is critical that we help provide newly released individuals with the support and resources they need to succeed," said State Assemblymember Monica Wallace, in a written statement provided to PEF.  "But, we must also make sure that we don't hamstring our professional officers, whose job it is to keep our community safe. I voted against the act because I believed it would further strain our already overburdened officers by eliminating some of the tools they have to ensure compliance with post-release conditions. Now that the law has been signed, I'll be fighting to add more officers to reduce their excessive caseloads (48-1) and to expand access to the mental health, alcohol and drug treatment, and job placement services that individuals need to succeed."
PEF will continue actively advocating for amendments to the law when the next New York State legislative session begins in January.
To view a video of the rally on Facebook, click here.