October 8, 2021 — QUEENS, N.Y. — New York State parole officers rallied outside Rikers Island on Oct. 7, 2021, to denounce the recently signed "Less is More" parole reform law and call out the serious repercussions for community safety, parole supervision and crime victims.
"Bottom line – the "Less" in this law is public safety; the "More" is crime," said Gina Lopez, a parole officer and member of the Public Employees Federation (PEF), which represents 800 parole officers across New York state. "As parole officers, we want to do our jobs to the best of our ability and this misguided law makes that difficult."
The "Less Is More" bill unilaterally prohibits parole officers from using their experience, training and knowledge to protect communities from parolees who are willfully and despite repeated warnings continuing down a path toward re-violating the law. It irreparably harms the rehabilitation process for many parolees and eliminates the authority of parole officers to counsel or issue violations to parolees for violations like illegal drug use, alcohol use, skipping curfew and failing to report.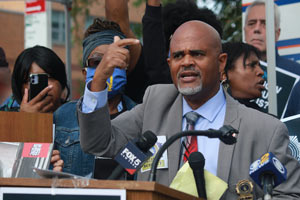 "We believe in reform, but this law requires that we turn our eyes away from those who are still serving their court-imposed sentences, but who continue to demonstrate the same bad behaviors and make the same bad choices that negatively impact their communities and which got them in trouble in the first place," said PEF President Wayne Spence, a parole officer for almost three decades.
Spence and Lopez, joined by fellow Parole Officer Gabriela Franklyn, shared real-life violations they have seen on the job and pointed to news articles where parolees back out on the streets committed new crimes.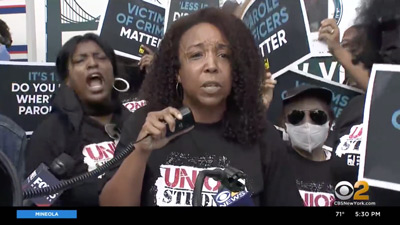 "Since the proposal of this legislation, we as parole officers have continuously requested to have a seat at the table to provide input on effective parole reform within New York, but it has fallen on deaf ears," Lopez said.
PEF fought Less is More for more than four years, meeting with legislators and lobbying against the bill in Albany. Those demands have not changed since the bill was signed into law by Gov. Kathy Hochul last month. PEF believes meaningful parole reform must impact all aspects of reintegrating parolees into their communities –providing adequate funding for low-cost education, technical training, mental health and wellness, addiction services and housing — while keeping those communities safe and preventing additional crimes. In addition, PEF would like the State to consider amending its sentencing guidelines, which have not changed since 1995. To start, lawmakers should review the legislative risk assessment process that too often saddles parole officers with high caseloads.
"Earlier this year, 90 members of the State Legislature voted 'no' on Less is More because we knew it was a mistake," said State Sen. Diane J. Savino, D, IP-23rd Senate District. "We knew that the narrative being put forward did not reflect the truth of what is happening with parole officers or parolees. Understaffed and under-resourced, our parole officers are not able to adequately support those who are released early to succeed. This bill has been conflated with the disastrous management of Rikers Island and will do nothing to improve conditions for them or those who monitor parolees or those who need their help to regain productive lives."
"Voting against a bill can be difficult but necessary after careful review of its overall purpose and consequences," said Senator Joseph P. Addabbo, Jr. "'Less is More' is an example of legislation that, while well-intended, does not adequately address concerns for the safety of both residents and parole officers, fairness to victims, or repercussions of the parolee's overall rehabilitation. Possibly contributing to a more effective solution would be to increase the number of Parole Officers and services to help them assist parolees with housing, mental health and addiction services, and job training," Addabbo added.
"I stand with the hardworking parole officers who need all available tools at their disposal to do their very difficult jobs," said State Sen. Todd Kaminsky, D-9th Senate District. "They need our support now more than ever."