December 15, 2021 — In a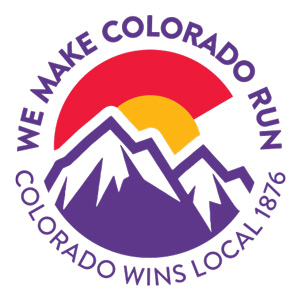 n act of solidarity, PEF sent its two top organizers to Colorado to help the state's new employee union win ratification of its first contract. PEF Director of Organizing Dan Carpenter and Jessica Carpenter (no relation), PEF's member engagement administrator, traveled to Denver in November for the Colorado Wins effort, in which they were joined by organizers from unions across the country.
Colorado's new state employee union is, like PEF, an affiliate of both the Service Employees International Union and the American Federation of Teachers. The new union differs from PEF, however, in that it represents all 28,000 non-managerial and confidential employees of the state.
At the start of the visit, about 3,000 of those 28,000 employees had joined the union. By the time the organizing blitz was over, the union had about 4,000 members.
Dan Carpenter said members were vulnerable until their first contract was ratified. It provides them their negotiated due process rights as well as raises and benefits.
For nearly two weeks, PEF staff knocked on doors and spoke at state worksites about the tentative agreement and answered questions.  They found many Coloradans were not as familiar as New Yorkers with the importance and value of organized labor.
"When you talk to people in New York, they know what a union is and what it can do," Dan Carpenter said.  "Our conversations in Colorado laid the groundwork and foundation for what union strength can do to positively impact them and their workplace."
The contract campaign paid off for the rookie union and the contract was ratified.  As more members join, they will bring their skills and commitment as well as their dues to keep bolstering the union's resources and ability to serve and enhance its members' lives and working conditions.
"AFT wants to conduct a blitz here in New York next year and let the Colorado union see how that works.  It's important for us to be out there and help them have those discussions," Dan Carpenter said.