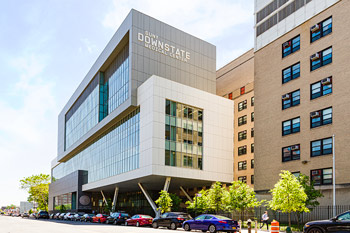 January 6, 2022
BROOKLYN – PEF nurses at SUNY Downstate Health Sciences University Center will receive geographic pay raises (GEOs).
The agreement negotiated last month between SUNY and PEF will result in an average salary increase of about $12,500 for registered nurses and an average annual increase of $2,000 for PEF licensed practical nurses.
"These nurses are truly the heroes of this pandemic," said PEF President Wayne Spence. "These are the public employees who went to work every day, long before there was a COVID vaccine, to care for the sick and the dying. They risked their lives to help others and this geographic pay raise is one small way to reward them for their sacrifice."
The SUNY Downstate GEO follows similar raises PEF secured for its member nurses at SUNY Stony Brook in September 2021 and SUNY Upstate in June 2021.
The Article 44 Committee, formed to study and make recommendations on problems and issues facing nursing and other professional employees in institutional settings, has been taking a deep dive into registered nurse salaries at state facilities and agencies.
As of May 2021, their research has uncovered large discrepancies
At SUNY Downstate and area mental hygiene facilities in New York City, PEF registered nurses coming out of school with no bachelor's degree are earning $61,352 – that's 30 percent less than nine neighboring private-sector facilities, where the same level of skill would earn them $88,308.
SUNY Stony Brook sees similar disparity with the private sector.
The average starting salary at Stony Brook is $65,972. That is 24 percent less than four Long Island private facilities, where the starting salary is $87,328.
"These increases are vital for recruitment and retention of nurses at our state's top hospitals," said Spence. "The long overdue and well-deserved raises will help close the gap between public sector and private sector nursing salaries."
PEF will advocate for additional policies to improve nurse compensation and benefits in the New York State legislative session this month.