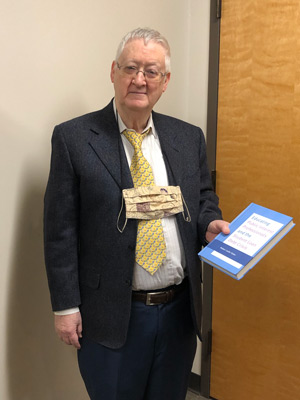 January 14, 2022 — Do you have teenage children or grandchildren?  Robert Fisher has written a book he thinks you should read.  A professional sociologist, Fisher is a former PEF member retired from what is now the state Department of Corrections and Community Supervision.
His latest book, "Educating Public Interest Professionals and the Student Loan Debt Crisis" is aimed at parents and students as well as public policymakers, academics and lending institutions. He wants everyone to understand that our country and our state need more well-educated professionals in public service – both in government and private not-for-profit organizations.
Fisher says it costs students more money to achieve their professional degrees and training than they can reasonably expect to recover in a few years working as teachers, social workers, school guidance counselors or other public-service professionals.  He urges policymakers to channel financial assistance to students who want to earn advanced degrees and make their careers in public service.  One idea he favors is directing federal Pell grants and other student aid to focus more support on students who seek careers as public interest professionals, particularly in the "STEM" fields of science, technology, engineering and mathematics.
"These vacant positions are not being filled and the public employees who are in them are carrying such heavy workloads that they are burning out," Fisher said.  "When they burn out and leave those public positions, it has a cascading effect.  If we don't take action, the problem will keep growing until it seriously threatens our country."
"It isn't just about how much people owe in student loan debt, it's also about not being able to pay it and other bills because professionals in public service earn so little," Fisher added.  The current situation puts them in an impossible situation.  "They want to serve the public interest, but they have to go into other work or go into default.  They need loan forgiveness and they need better pay in public service."
Fisher's book came on the market at the end of 2021 and is already being snatched up by libraries in most states and several foreign countries so far.  He credits the urgency of the subject matter and the very good reviews it has earned for this early success.
Fisher said he wrote it to be understandable and relevant for students and their parents.  One chapter is devoted to advice for students.  In it, he strongly urges students to "choose your major before you start college and don't waste time or money changing schools or majors.
"Don't treat college like a candy store for trying out lots of different flavors.  You need to come out with the best education you can get with as little debt as possible if you are thinking of working as a public interest professional," Fisher advised.  Students currently average about $30,000 in student debt when they get their bachelor's degree.  Professionals, however, often need more advanced degrees, and their debt may amount to six figures.
While PEF members may be able to offset some of their educational costs with reimbursement through their contract's education benefits, that's a union-bargained benefit that millions of people in other jobs and states don't have, he said.
Fisher acknowledges that his ideas are not revolutionary, saying, "It's mostly ideas that are already out there in the professional literature put together in a new way."
Fisher and his wife, Shirley Anderson (also a retired PEF member), live in the Capital Region.