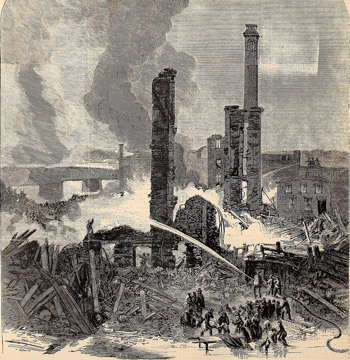 January 10, 1860: More than 500 people went to work at the Pemberton Mill in Massachusetts, entering the five-story high, 84-foot wide, 280-foot long building. Work was underway to reorganize heavy machinery on the fourth floor and the building shook more than usual.
Before the end of the day, 120 would be dead and 150 wounded as the mill collapsed and men, women and girls were trapped under the debris, many unable to escape. Fire swept through the ruins while onlookers were helpless to render aid. Horrified passersby watched as those about to die took their own lives or sung church hymns until the end.
While the Pemberton Mill was built only seven years prior, faulty iron pillars which supported the floors, poor quality mortar in the brick walls and tons of metal looms and carding machines overtaxing the subpar construction led to one of the worst industrial accidents in Massachusetts history.
The disaster remains a cautionary tale about greed and money.
"The Pemberton fell because the people who built it rushed to get it completed and in the end used faulty construction materials," says UMass Lowell history professor Robert Forrant in an article in The Eagle Tribune. "In their rush to make money, mill owners packed the mill with too much heavy machinery. Eventually, the wear and tear on the building took its toll, and the factory collapsed killing scores of young and mostly immigrant workers."
Health and safety in the workplace is a cornerstone of union activity in the United States.
Private industry employers reported 2.7 million nonfatal workplace injuries and illnesses in 2020, the Bureau of Labor Statistics (BLS) reported this November. Total reported illness cases more than quadrupled to 544,600 cases, up from 127,200 cases in 2019.
There were 4,764 fatal work injuries recorded in the United States in 2020, the BLS reported in December. The fatal work injury rate was 3.4 fatalities per 100,000 full-time equivalent (FTE) workers.  A worker died every 111 minutes from a work-related injury in 2020.
"The labor movement has always led the charge to protect working people from workplace injury, illness and death," according to the AFL-CIO. "Working with allies, we have won strong protections against hazards and stronger rights for workers. Through organizing and collective bargaining, unions have gained even stronger protections and rights that have given workers a real voice in safety and health at the workplace."
It was the labor movement that fought to pass the Occupational Safety and Health Act in 1970 and the Federal Mine Safety and Health Act of 1977.
In 2019, a 1 percent decline in union representation resulted in a 5 percent rise in the rate of occupational deaths and the Bureau of Labor Statistics shows that fatality rates are 54 percent higher in states with right-to-work laws.
Do you have a health and safety concern? Contact PEF at HealthAndSafety@pef.org.