If you have been wondering when you will get your retroactive pay, you are not alone.  PEF President Wayne Spence told the PEF Executive Board at its August 26-27 meeting in Albany that the Office of the State Comptroller is working to make all of the calculations and prepare the payments.
Since that meeting, the State has notified PEF that members will receive retroactive base salary increases in their November paychecks.
It was the union's first in-person board meeting since the pandemic forced an emergency "pause" in normal government operations in March 2020.
PEF President Wayne Spence highlighted the union's top issues at this time:
Telecommuting
COVID-19 vaccination and testing
Spence also took time to recognize Contract Administration Director Debra Greenberg and Contract Administration attorney Ed Aluck for their skill negotiating the 2019-2023 PS&T contract.
"The state relentlessly tried to make us give up things we hold dear and repeatedly said that if we didn't give them up, we would not get a contract," Spence said.  "But Debra Greenberg was also relentless in catching the state's many sneaky efforts to get us to agree to time keeping and to de-professionalize us."  Spence added that he will recognize the entire PEF bargaining team at the convention.
2021 PEF Convention
Much of the board's time at this meeting was spent debating whether PEF should move forward with its plans to hold its annual convention this October in Niagara Falls, rather than hold it virtually to avoid any COVID-19 risk.
The nationwide surge in COVID infections prompted some board members to say they are too worried about the risk of bringing so many members together.  Because the matter had been previously decided by the board in favor of an in-person convention, overturning that decision required two-thirds of the board to support the change.  The support for a virtual convention did not reach that standard and, therefore, the plans for the Niagara Falls convention are going forward.
The PEF Convention Committee is looking into whether it can offer a COVID-19 testing site and/or a vaccination site at the convention.
Some board members asked if delegates could get single rooms, instead of sharing.  The Convention Committee said yes, but delegates will have to pay for the additional cost.  It will also mean more hotels will be used and commute time between the hotels and the convention center may be longer.
The board debated, amended and approved the union's state and federal legislative agendas for 2022 that will be presented to convention delegates for adoption.
Special elections
Changes to the Rules for Special Elections to fill mid-term vacancies in offices and on the board were also debated and approved by the board.  The changes were recommended by the PEF Special Elections Committee and include amendments to the PEF Code of Ethics regarding all election activities.  Among numerous other changes, nominating petitions currently will not be available from PEF headquarters or regional offices.  The petitions may be found on the PEF website (starting October 13 at 9 a.m. for the first quarterly special election following the triennial election) or you can call the PEF Divisions department at headquarters and request that nominating petitions be mailed to you.  Completed petitions must be returned by mail or scanned and emailed to the PEF Special Elections Committee.
Division elections
The board also decided to discontinue an emergency policy that allows members who want to run to fill vacant seats in PEF division elections to nominate themselves.  This applies to all division elections started after August 26.
Hazardous duty pay
President Spence stepped away from the meeting briefly to join a conference call with New York Gov. Kathy Hochul and the leaders of nearly 50 labor unions.  Spence told Gov. Hochul that hazard pay for PEF members who were deemed essential and who have continued to work on the front lines throughout the pandemic is a major issue for this union.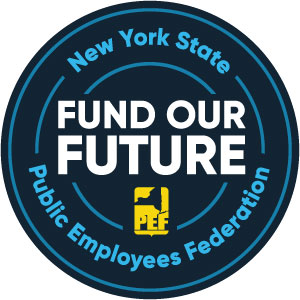 Fund Our Future
Dan Carpenter, PEF's director of organizing, reported that he and other PEF staff have been holding events all over the state to thank members for their amazing work throughout the pandemic.  He said that since June 2021, when the hiring freeze was lifted, 349 of the state's 436 new PS&T unit hires have joined PEF, but even that high level of unity is not good enough.  Reaching out to new employees has been much more difficult because of the need for social distancing and with so many state employees working from home, but it must remain a top priority.
Vice President Randi DiAntonio, who chairs PEF's Political Action Committee, said the PS&T unit has been steadily reduced by state budget cuts, staff cuts, hiring freezes, and privatization.
"We have lost more than 5,000 positions in NY state government since Andrew Cuomo took office as governor," DiAntonio said.  PEF is now building a coalition called 'Fund Our Future,' in partnership with its parent unions (American Federation of Teachers and the Service Employees International Union).
"This is a multi-year campaign," Carpenter said, "and it's got to be a lot bigger than just PEF."
While the campaign is big, the focus on individual members is critical, DiAntonio said.
"We need to raise the visibility of our members' work and educate the public about what we do," DiAntonio said.  "We want to show how our members impart their values in service to their communities, as well as the important things they do on their jobs and the obstacles, such as short staffing, that are in their way."
The public should know that state employees have put in 19 million hours of overtime during the pandemic.
PEF wants you to take an online survey (available here) to help the union start gathering information and training activists for the campaign.  The success of the campaign will hinge on the level of energy and support you provide. As DiAntonio said: "We all have to be in this together and rowing in the same direction!"
"We will offer workshops on this campaign to our convention delegates, and we will be recording testimonials from the delegates.  We need all hands on deck!  If we don't take on this issue, we cannot win it," DiAntonio added.
PEF finances
PEF Secretary-Treasurer Joe Donahue reported that the union has nearly $19.8 million in net cash and investments based on the union's unaudited figures. (The PEF audit for the fiscal year 2020-21, is included in this issue of The Communicator, available here.)
"Our investment income is up and expenses are down, mainly because of the pandemic," Donahue said.  However, he cautioned that "the stock market can change in a minute and our convention is likely to cost more than we budgeted for it."  He added that as the state workforce continues to lose employees, PEF continues to see its membership and dues income slowly decrease.
Donahue reminded PEF divisions and regions that they must include all items purchased with PEF funds on their inventory and financial reports they submit to his office.
Recruiting new state employees to join the union, and keeping members engaged and participating is extremely important, Donahue stressed.
"We wouldn't have a new contract if it weren't for member engagement," Donahue said.
Other business
The board elected three of its members to serve on the PEF advisory committee to the PEF Political Action Committee.  The committee is chaired by Vice President Randi DiAntonio.  Elected at the meeting to serve on the committee are Scarlett Ahmed, Conrad Davis and Vincent Cicatello.
Don Morgenstern reported on his efforts to raise member donations to COPE (the Committee on Political Education).  Under federal law, voluntary donations to COPE are the only monies PEF may contribute to candidates for federal office.
New York was headed for a dire budget shortfall because of the pandemic that would have necessitated deep budget, program and staffing cuts, but thanks to the strong efforts of New York's representatives in Washington, and especially U.S. Senate Majority Leader Chuck Schumer, the state is receiving enough federal aid to stave off a financial crisis.
While about 50 percent of other unions contribute to their COPE funds, only about 4 percent of PEF's members and retirees donate.  PEF Division 407 at Metro Developmental Disabilities Services Office in the Bronx is the only PEF division hitting above the 50 percent donor level.
"We must at least replace the 150 donors that we lost," Morgenstern said.  "The campaign depends on local leaders educating their members about why these donations matter so much."
The next meeting of the PEF Executive Board will be at the end of the year, December 9-10.