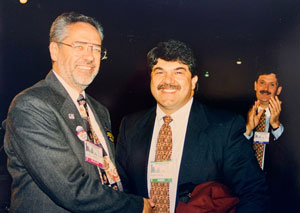 August 19, 2021 — Jim Sheedy was a founder of PEF.  He served in every statewide office of the union from vice president to secretary-treasurer and president.  He died August 14 at his home in Tucson, Arizona.  He was 85.
No person has served as an officer of PEF longer than Sheedy.  He was a vice president in the first administration of the union from 1979 to 1982.  He was elected secretary-treasurer of PEF in 1982 and was repeatedly re-elected to that post, serving from 1982 to 1994, when he was elected president.  He was president until 1997.  And after 18 years as an officer of PEF, he returned to his job of 25 years as a civil engineer 1 at the state Department of Transportation, where he again worked through 2000.
He served on the NY State Employee Assistance Program Advisory Board and chaired it for several years.  He was also active in the Capital District Chapter of the NY State Employees Federated Appeal (SEFA) Committee that he chaired for more than a decade.  In addition, he served several years as a trustee of the PEF Membership Benefits Fund.
"Jim set a standard of service to this union and to New Yorkers that should be an inspiration to us all," said PEF President Wayne Spence.  "Jim served with four different presidents of PEF and then led his own administration.  His record of working with so many different elected leaders is unique."
Sheedy was well known and liked for his quiet honesty and diligence.  He didn't speak often, but when he did speak, people listened because he focused on facts and avoided personal attacks.
Barry Markman, a former PEF vice president and a retired PEF staff member, said he was deeply saddened to learn of Sheedy's death.
"He was a real gentleman," Markman said.  "People always respected what he had to say, and you felt that he would listen to you respectfully."
Markman said Sheedy devoted a lot of his efforts toward building PEF divisions.  "He always worked with the divisions and made sure they got the resources and support they needed to meet the challenges they were facing."
"Jim was a real unionist."
Members wishing to post memories or tributes may do so here: https://www.evergreenmortuary-cemetery.com/obituaries/James-Sheedy/