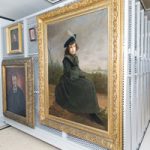 The New York State Museum, established in 1836, is the oldest and largest state museum in the country. Its collection includes a staggering 16 million scientific specimens and a million cultural objects, only a small percentage of which are on display for viewing.
With so much history and science, researchers frequently request information about the varied collections – from the smallest of insects to pottery to myriad species of birds. An electronic database and digitization project began in 1997 to create a publicly accessible online repository from the museum's catalogs and PEF has led the way.
"Getting our established paper-based catalogs in an electronic format and ultimately online and available to people outside of the State Museum is a relatively new thing," said PEF member and museum scientist, Ryan Whitehouse, whose background in entomology and experience with biological databases positions him perfectly to manage the growing databases at the museum. "There is a big push to share the information about items in our collections with people, including researchers and for education."
Whitehouse said the end goal is a database that includes the entire museum collection – a project that will take years to complete. With some objects too fragile to put on display, collections that contain replicate specimens and specimens that require specialized storage, an online database makes much of the data available without compromising the items.
"I would love to have everything in the museum catalogued and available online so that besides our museum staff, teachers and researchers, the public could utilize the unprecedented information contained in these items that represent and teach us about the history of New York," he said. "Right now, we are prioritizing items that are frequently accessed by researchers. For example, we have an amazing collection of earthenware jars, but not enough space to put them all on display, but we can digitize all of them for online sharing."
Staff regularly adds information to the database.
"Many departments are entering data, but it takes time," Whitehouse said. "For a department with, say, 500,000 specimens, someone can enter one to two items a minute. Working non-stop, that would still take one person more than four years!"
The database is critical for keeping track of what the museum collection contains, as well as where items are located and it helps curators respond quickly when researchers submit inquiries.
"This makes everything so much easier," Whitehouse said. "It's integral for what we do and it's exciting to have all that data available."