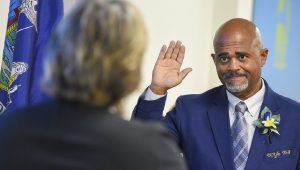 August 4, 2021 — The new enlarged conference room at PEF headquarters in Latham was filled August 2 with well wishers attending the swearing-in ceremony for the union's officers beginning a new three-year term.
President Wayne Spence, Secretary-Treasurer Joe Donahue and Vice Presidents Randi DiAntonio, Sharon DeSilva and Darlene Williams were given the oath of office by Randi Weingarten, who heads the American Federation of Teachers, one of PEF's two international parent unions.
Weingarten graciously agreed to also administer the oaths of office to PEF's three trustees – Chris Buman, Muriel Hardy-Lee and Bruce Giddings — as well as the PEF regional coordinators:  Michele Silsby (1), Andrew Puleo (2), Leisa Abraham (3), Gina Corona (4), David Dubofsky (5), Christopher Dunham (6), Barbara Stransky (7), Diane Jaulus (9), Radhakrishna Mohan (10), Bernadette O'Connor (11) and Nora Higgins (12).
PEF Region 8 advocate Danielle Bridger was emcee of ceremonies.  Since no candidate for Region 8 coordinator was certified in the triennial election, nominees for that seat and any unfilled Executive Board seats will be sought when special elections to fill vacancies resume in October.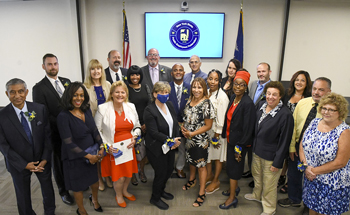 Members elected to the PEF Executive Board during the triennial election will take their oaths of office at the next board meeting on Aug. 26.
Speakers at the swearing-in ceremony spoke of the many challenges the union has faced in recent years, with the COVID-19 pandemic still disrupting the lives of PEF members and putting some in potentially dangerous situations.
Weingarten praised Spence, who is beginning his third term as president, and PEF members for their dedication and fortitude in facing the pandemic.  "You never stopped working.  You were on the frontlines.  You were there.  New York is tough and strong because of who you are and what you do.  We have noticed and we want to thank you."
"None of us could have envisioned all of this three years ago," Weingarten said.  "It has been an 18 months like no other, and looking forward, the one thing we can be certain of is uncertainty.  In a way, that is PEF's story … the need to be strong in uncertainty."
Weingarten likened the beginning of the three-year term  to standing on a precipice.  She called on all PEF members to be at the ready to respond when new crises and challenges again take the union by surprise.
"Have their back," she told members.  "Your leaders will need your support and they need you to have their back."
In his remarks, Spence looked back six years to when he was elected to his first term.  He admitted that he expected to lose that election, and when the ballots were counted he still thought he lost it.
"At that time, 75 percent of PEF members were white," Spence said.  "But they saw beyond color.  We have more in common than we have in differences – regardless of your politics or where you work."
Spence also noted that he was only the second president in PEF history to be elected to three terms in office, and he thanked retiring Secretary-Treasurer Kay Alison Wilkie and many others for all of their important contributions and support.
"It's not forgotten by me, the shoulders I stand on," Spence said.  Together, he said, PEF members will witness profound changes in "the work culture" following the pandemic lockdown and all of the unforeseen changes to priorities, methods, policies and expectations it has triggered.
In leading the benediction, Trustee Bruce Giddings said, "I ask you all to reflect on the journey that got us here and the journey that lies ahead of us."  He likened it to a mountain trail, saying "It has a trailhead, where we stand now, and a destination, but we don't know what lies between."