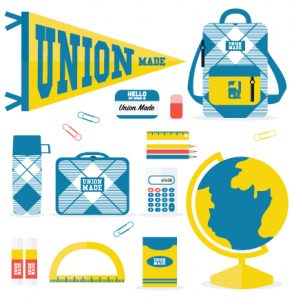 July 28, 2021 — Parents can expect to shell out more for school supplies this year.
The average cost per student could reach as much as $270, up from the $250 spent in 2020, according to a KPMG survey of more than 1,000 adults across the United States in May. Parents of preschool-aged children are planning to spend as much as 32 percent more this year and college-aged parents are looking at a 13 percent increase.
"A combination of supply shocks to U.S. manufacturing and abruptly heightened consumer demand for goods, including school supplies, has created the perfect storm for this scenario to play out," according to KPMG economists.
Why not support your union brothers and sisters when you hit the stores for back-to-school shopping this year? Many items on your children's lists are available union made.
Below is a list, compiled by the AFL-CIO, listing products and the unions that produce them:
Paper Products
• Boise Paper: Products: Boise X-9, Business Choice, FasCopy, Flagship, Grand and Toy, Office Depot, USA Xerographics, W.B. Mason and Xerographics (United Steelworkers Local 159).
• International Paper: Full list of products (USW).
• Mead Westvaco/Acco Brands: At-A-Glance, Day Timer planners and organizers, Five Star school supplies and organizational gear, lined paper, Mead school supplies and Really Big Coloring Books (Communications Workers of America, USW).
•Pacon: Products: Art1st drawing/sketch Pads, Array card stock and bond paper, Art Street construction paper, Bordette Decorative Border, Classroom Keepers storage, Colorwave tagboard, Corobuff 3D decorative backgrounds, Decorol Art Roll paper, Ecology recycled paper, Ella Bella photography backdrops, Fadeless Paper, Flameless Paper, GoWrite! dry erase pads, Kaleidoscope colored paper, Little Fingers construction paper, Neon fluorescent-colored paper products, Peacock colored paper products, Plast'r Craft modeling material, Present-It easel pads, Rainbow Colored Kraft duo-finish paper, Riverside construction paper, Spectra ArtKraft duo-finish paper, Spectra Art Tissue tissue paper, Spectra Glitter, Trait-tex yarn and Tru-Ray construction paper (USW Local 2-1822 and Local 2-1822-01).
• Roaring Spring: Products: binders and portfolios, composition notebooks, construction paper, drawing pads, envelopes, folders, index cards, Modern Jen journals and folders, poster board, sketch books and wire-bound notebooks (USW Local 488).
 Other School Supplies
• Clauss: Scissors (UAW Local 959)
• Master Lock: Locks, safes, etc. (UAW Local 469)