Sometimes just smelling a rat may be enough to get your attention. You don't even have to actually see it.
That is in part what prompted the state Labor Department to agree to sit down with PEF to discuss the union's longstanding gripe about its members who have been stuck for years in supposedly temporary low-paying hourly jobs at DOL with few if any contractual rights and no job security.
When the department found out that PEF was planning a protest rally with the giant, inflatable "Scabby the Rat," and had garnered support from other unions in New York City, the DOL said it would finally sit down and discuss the issue of long-term temps if PEF called the rally off.
"We might not have brought DOL to the table without the help and solidarity of our friends at SEIU Local DC 32BJ and the New York City Central Labor Council (NYCCLC)," said PEF President Wayne Spence.  "This is a perfect example of how we are all stronger and more powerful when we work together and support each other.  When I reached out to (President) Kyle Bragg at 32BJ and NYCCLC President Vinny Alvarez for help, they were ready to go.  The whole idea of a union is to know that you are not alone, and they are ready to back us up when and if we need them.  That's empowering!"
Spence shared the story with SEIU President Mary Kay Henry and Executive Vice President Heather Conroy, who were delighted to hear how the solidarity paid off.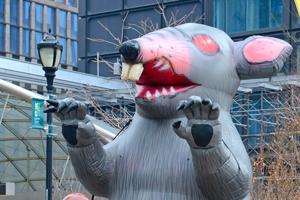 "The term 'Stronger Together' was recently epitomized by the assistance given to me by Kyle Bragg," Spence wrote to the SEIU leaders.  "PEF was in search of a 'Scabby the Rat' to use at a protest against the NYS Department of Labor (that) has allowed PEF members to remain as temp/non-permanent hourly employees, in some cases for as long as 15 years.  Some have even retired as hourlies. These members have paid union dues, sometimes for years, without getting the benefits of union membership enjoyed by full-time employees, such as access to promotions, paid holiday time, etc. Not only that, but every year was precarious for them as their employment came with no protections and could have ended at any time.
"PEF made several attempts – in 2016, 2017 and again in 2021 – to resolve this situation at the contract table, but failed," Spence continued.  "Any reasonable person would think, if nothing else, the heroic effort these employees put in over the last year, when pandemic-related unemployment claims shot through the roof while there were severe staffing shortages in DOL, would persuade New York State to recognize their value; instead, the state wanted to keep the status quo.  Finally we decided enough was enough.
"We planned a rally for September 18 at 199 Church Street, New York City, in front of the Manhattan DOL office, and we decided to use "Scabby the Rat" to make an impression on Commissioner Reardon – who is a former president of SAG-AFTRA, the actors union.  (When) I reached out to Kyle, and explained the difficulty we were having, not only did he immediately offer us one of 32BJ's rats, he promised to bring out his own members in support of PEF's effort.
"When word of the demonstration was shared with state officials and other unions, talks suddenly moved forward, and we were actually able to reach a tentative agreement with DOL on the longstanding issue of hourly employees.  We are obviously delighted with this breakthrough, which will directly improve the lives of hundreds of DOL workers.
Henry wrote back: "I join EVP Conroy in delight at this story.  The condition of 'temps' is so well described and your 'enough is enough' sentiment hits a nerve running through the union. I want to add that your leadership is not as well highlighted in this story — you opened the space for the anger at injustice to find collective, creative militant action that drove to 'rewriting the rules' for temps FINALLY!!! So cheers to you and Kyle for your unwavering leadership and solidarity."
"We are very grateful for the support our members are receiving from PEF, 32BJ and the Central Labor Council to improve the terms and conditions of employment for these members," said Scarlett Ahmed, the union's statewide labor-management chair, Executive Board member and council leader of Division 245 at DOL.  "If this opportunity to negotiate doesn't bring enough improvements, we can always call another rally and stir up another rat."