September 23, 2021 — Leisa Abraham, a psychologist 2 at Finger Lakes Developmental Disabilities Services Office in the Newark area, is PEF's new Region 3 coordinator.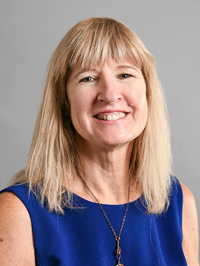 Genesee, Livingston, Monroe, Ontario, Orleans and Wayne Counties make up Region 3, which extends along Lake Ontario's southwestern shore, from the Rochester area most of the way toward Buffalo.
Prior to her election as Region 3 coordinator this year, Abraham served in various PEF positions across two PEF division steward councils at Finger Lakes Developmental Disabilities Services Office, as a steward, treasurer and council leader over a period of 20 years.  Beginning in 2018, she served on the PEF Executive Board and chaired the PEF Region 3 Political Action Committee.  She also has served on the PEF Justice Center Committee, PEF Convention Credentials Committee and a PEF Grievance Appeal Panel.
It's said that timing is everything, and stepping into this new leadership role just now feels like stepping into a whirlwind.
"Everything is moving fast!" Abraham said.
She is taking on this job during a deadly pandemic when nothing is routine and members are beset by changes, potentially deadly risks and unexpected demands on their jobs.  The union is caught up statewide in trying to represent and protect the job security and health and safety of members who may have very different ideas about what that should mean.
Masks, COVID-19 vaccinations and telecommuting are big issues piling on to older, entrenched problems such as chronic short staffing, mandated overtime and low pay that plague nearly every state agency and worksite.  Add to that a sudden switch in state governors and now no one feels the ground is steady beneath their feet.
"Things keep changing.  Who knew last year that getting people vaccinated would take such an effort?  People have rights, and some of them don't want to be vaccinated.  We have some group homes for our clients that have very low vaccination rates.
"Now, the state wants everyone (who wasn't deemed essential) to come back to working in their offices, but from a health and safety standpoint, the standards are based on just 50 percent occupancy," Abraham said.
Meetings, rallies, protests and events that typically bring members together are all the more challenging to pull off during the pandemic and Abraham said that she wants to build on some events that have been popular with members of Division 246.  For the moment, Abraham is trying to organize a Region 3 event this fall for members at Long Acre Farms, which will give them a chance to socialize outdoors where infection risks are low.
"There is a lot going on, and I'm grateful everyone at PEF is being very, very helpful to me," Abraham said.