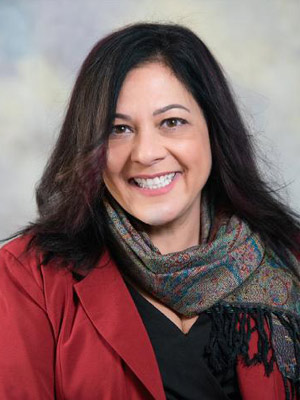 October 13, 2021 — Gina Corona is the new PEF Region 4 coordinator.  It's a new challenge for her, but it's a logical progression after years of activism in the union.
A licensed master social worker 2 with the state Office of Mental Health in Syracuse, she has two decades of state service and has gradually taken on more and more leadership responsibilities in PEF.
Cayuga, Cortland, Jefferson, Onondaga, Oswego, and Seneca Counties comprise Region 4, and they stretch along the eastern shore of Lake Ontario.  Syracuse is the biggest city and that's where the PEF regional office is located.  Corona said she feels her years of service as council leader of PEF Division 301 at Hutchings Psychiatric Center, and as an Executive Board member representing members at seven state facilities has been good preparation for this new challenge.
"We have a strong steward council in Division 301 and I'm eager to pass the council leader duties on to one of our strong council members," Corona said.  "We will be holding a division election soon."
Her father was a Teamster and Corona said she found herself in a union at age 16 when she took a job of cashier while in high school.
"I've always said, union leaders aren't born, they are made."  And her work for the state quickly taught her why you need a union to stand by you.  "Management didn't want to approve time off. I worked every day and had the time to use, but they would not approve it." She was seeking time to address medical and family needs.  When my son was born, he was in the neonatal intensive care unit at the hospital for a month.  I got to know my PEF field representative Bob Tompkins and he taught me about my rights under the contract.  At one point, I applied for leave under the Family Medical Leave Act (FMLA) and my employer denied it.  Bob helped me file my first  grievance and I won!"
Corona said that grievance win gave her the confidence to become a PEF steward, and then she saw that many of her fellow members needed help and understaffing was nearly always at the root of their on-the-job difficulties.  As she worked to help them, Corona said she learned how important it is to know something about your contract and how it protects you.  She said that she also began to develop a network of helpful union contacts throughout Region 4 and beyond.  Serving as a convention delegate and on the statewide labor-management committee at her agency has also helped her see how issues can be identified and addressed.
Corona said she found that resolving individual issues is important for both the employee and for the public they serve.  "When the employee gets what they need, they can do a better job," she said.
Now she is ready, Corona said,  to put everything she has learned to work for Region 4 members and to continue learning and building skills with every experience.