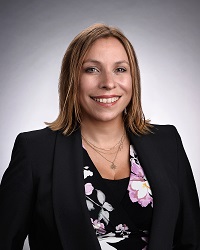 Labor leaders from across the country came together September 30 for a webinar on threats to the public service sector, discussing the devastating impact of privatization on the services public employees provide.
PEF Vice President Randi DiAntonio served as a panelist and shared the situation in New York.
"We are the backbone of New York state government," DiAntonio said. "We have been under constant threat for well over the last decade. It has been devastating. We've suffered through years of budget mismanagement; years of not backfilling positions. We have a former governor who put an arbitrary 2 percent cap on state agencies.
"New York has privatized public jobs and services at an alarming rate," she said. "At the same time, we have an aging workforce and many retirements, all compromising our ability to deliver critical services that our communities rely on."
DiAntonio called out the state's design-build flaws as an example.
"We have people designing and building the bridges and roads we drive on with our children," she said. "They are also the ones inspecting the work."
For decades, we have been underfunded and under resourced.  This has led to increased closures and consolidations of public facilities, reliance on private health care and developmentally disabled service providers, 5,000 state job vacancies, stagnant wages, overworked and stressed-out employees – all then exacerbated by COVID – amounting to a state in crisis.
But, the struggles also afford a chance for change.
"We found ourselves right in the spotlight as far as the need for quality public services," DiAntonio said. "We were the first ones hitting the front-lines on COVID in New Rochelle. There were 19 million hours of overtime in 2020 alone. We didn't have the bodies we needed so we had to rely on what we did have. Average citizens became frustrated when they couldn't access the services they needed."
With a renewed interest in public services and the struggles of public servants, DiAntonio said it is time to change the narrative.
"We realized we have been talking about austerity and privatization for many, many years, but the average citizen couldn't relate to that lingo, it was insider baseball," she said. "We realized we needed to change our approach.
"We at PEF decided we have to start fighting differently," she said. "We started asking the questions, what do public services mean to citizens? Why should they care? What does a society that puts people first look like? How do we build alliances to grow public services?"
Out of those questions and the need to fight privatization and increase support of the public workforce grew a new campaign – Fund Our Future for a Thriving New York. Focusing on public health, public safety, public oversight, expanding the civil service workforce and expanding the safety net, Fund Our Future will look to PEF members to be the face of the campaign.
"We know that our members are our strongest weapon," DiAntonio said. "We know that most New Yorkers don't really know what we do for them. We're not out there on TV talking about it unless there is a crisis. People used to look down on civil servants, but they now know we do the work of heroes. Members are the best ones to relay that message to other citizens."
PEF will be recording video testimonials with delegates at the October convention about the vital work they do for New York. If you're not a delegate and would like to be involved in Fund Our Future, please visit the campaign website at www.pef.org/FundOurFuture to complete a survey and tell PEF what you're willing to do.