October 4, 2021 — Pledging change, a sitting governor addressed delegates during this year's PEF Convention.
Gov. Kathy Hochul spoke to delegates on Oct. 25, the first plenary session of the 2021 Convention. She expressed her gratitude and camaraderie with public sector workers.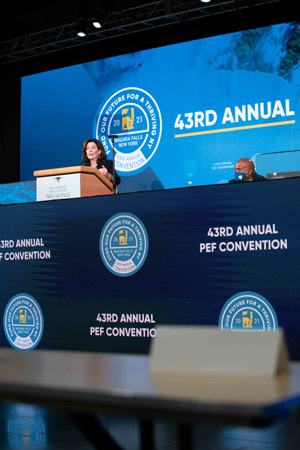 "You've never before seen a governor who has worked her way up from local government and had the privilege to represent thousands of public sector workers over my time as a local government official, then as a county clerk," Hochul said. "I, more than anyone, have seen the kind of individuals who are drawn to this work.
"All of you, you're professionals; you could have gone anywhere. And the private sector might be dangling more perks and benefits, and even more pay sometimes. Let's fix that," she said. "There is something in the heart of a public servant that says, 'I want to do something for my fellow human beings.' And that's why you're in these rooms."
The governor acknowledged common misconceptions about public workers and the work they do, something PEF's Fund Our Future campaign seeks to highlight.
"I know how hard it is, because sometimes people on the outside are not exactly complimentary of our public sector workers," she said. "And I've stood up for them. I'll always stand up for the workers of this state and our local governments, because you deserve respect."
It's time to give recognition where it is due, the governor said, highlighting the long hours and tireless work of Wadsworth scientists and nurses in state hospitals on the frontlines of the COVID response.
They "never got a pat on the back" she said. "They didn't get the gratitude and respect they deserved. It appalls me there has not been that recognition, that simple 'thank you' for what you did before and even during the pandemic."
Nurses "never knew what you were facing every day," Hochul said. "I'm so proud of what you did."
Hochul told the delegates change is on the way.
"I am committed to changing the workforce culture in state government," she said. "It will be one of respect. It will be one of trust. It will be one of respecting each other's diversity. It'll be a place that people want to work again — a sense of positivity, a sense of a can-do spirit, particularly now, more than ever."
Since becoming governor, Hochul lifted the state hiring freeze, questioning why there was a freeze during a pandemic when the people needed state services more than ever. She wants to fill vacancies and get Civil Service exams back up and running.
"We are just getting warmed up," she said. "We're going to do this together. I am so proud to call you my colleagues."