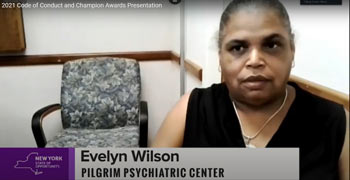 The New York State Justice Center for the Protection of People With Special Needs honored PEF member Evelyn Wilson, a social work assistant at Pilgrim Psychiatric Center in Brentwood, N.Y.,, as a 2021 Code of Conduct award winner.
Awards are presented to "dedicated members of the workforce" and highlight the "monumental role direct care professionals play in protecting people with special needs," said Justice Center Executive Director Denise Miranda. "As the COVID pandemic has continued to impact all of our lives, our Code of Conduct award winners have risen to the challenge, taking on each day with the renewed spirit to help individuals receiving services live their fullest lives."
Wilson, a 33-year direct support professional and PEF member since 2014, began her career working on the floor before transitioning to discharge planning. She focuses on helping reintegrate patients back into their community and is one of the founding members of the CONNECTIONS Team.
The CONNECTIONS Program assists patients "transitioning from the inpatient to outpatient setting and aims to establish a relationship with the patient necessary to providing effective transitional/community supports which are based on individual needs and recovery goals," according to Pilgrim's website. "Using person-centered planning, program staff meets with the resident for a four-week period. Collaboration between the staff of the CONNECTIONS Program, residence staff, and [the] client is encouraged and essential to making the successful transition to community living."
Wilson said her patients are the best part of her job.
"I like the patients," Wilson said. "I like helping people. I have a good team that works with me and we can help the patients as they move through discharge and help them succeed in the community."
Wilson said she was surprised when she was selected for the award.
"I was speechless, and I'm never speechless," she said. "I was shocked. This has been a very challenging and rewarding job. I love my patients. I learn so much from them. They will always have a special place in my heart.
"I want to thank my family, friends and coworkers," she said. "I couldn't do this without them."
To view a video of Wilson and her fellow winners accepting their awards, click here.