October 4, 2021 — PEF persevered in 2021 despite a continuing worldwide pandemic, funding cuts across many agencies, and staggering understaffing. The union negotiated a successor contract with across-the-board retroactive raises and fought for a temporary emergency telecommuting agreement to protect members from COVID-19 in the workplace, among myriad other wins.
A Year in Review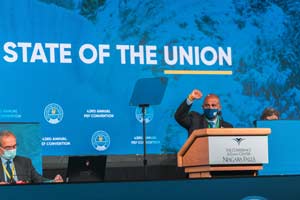 In his annual State of the Union address at the 43rd Annual PEF Convention on Oct. 25, President Wayne Spence highlighted the successes and challenges that PEF members faced over the last year.
"This is my seventh Convention as president of PEF and I'm honored by the trust you have placed in me to continue to lead this great union," he said. "What makes PEF great? In a word – you. You the members and you the delegates."
Spence looked back to the 2020 Convention, the first PEF held virtually, and how he stood in a ballroom facing monitors surrounded by minimal staff. The 2021 Convention, with nearly 500 delegates, was closer to years past – but COVID still loomed.
"While this year's gathering looks more like what we're used to, the long shadow of COVID-19 still falls over us," Spence said. "Since last October, we've lost 12 more of our brothers and sisters to this horrible virus. The coronavirus continues to impact our work, and our lives, in every conceivable way.
"No single issue has ever consumed this union like COVID has," he said. "While our mission remains the same – to promote the welfare of members with respect to all terms and conditions of employment – COVID has inserted itself into every aspect of that mission."
Despite the challenges, PEF forged ahead.
"We extended the telecommuting agreement twice, held about a dozen telephone town halls, hosted more than a thousand Zoom calls," he said. "Our legal department represented more than 130 members in disciplinary hearings, resulting in almost $800,000 in restored back pay and accruals."
Strong legislative action led PEF to defeating expedited closure plans for the Goshen and Brentwood Office of Children and Family Services (OCFS) facilities and Rockland Children's Psychiatric Center. PEF fought and won against proposals that would have merged the Office of Mental Health (OMH) with the Office of Addiction Services and Supports (OASAS), and the New York Psychiatric Institute with the Institute for Basic Research in Developmental Disabilities (IBR).
"We also fought for key COVID benefits," Spence said. "We secured four hours uncharged leave for vaccination, extended COVID death benefits through 2022, and negotiated for the ability to carry over annual leave accruals above the contractual cap for members who couldn't use accruals due to COVID response in April 2020, 2021 and 2022."
The union also revamped the PEF.org website and completed extensive renovations at PEF Headquarters in Latham.
"And, let's not forget, we negotiated and ratified a new four-year contract, with across-the-board, retroactive raises," Spence said. "In January, we'll start to prep for the next round of negotiations. We'll see what we can get while the getting is good. PEF is fighting for you and we are winning for you no matter what roadblocks the state or agency management tries to put in the way."
Fund Our Future
The theme of the 2021 Convention – Fund Our Future for a Thriving New York — has significant meaning for the future of PEF and will guide the union's strategies during the next year and beyond. A coalition of unions and community organizations committed to fighting privatization of public services, the campaign will highlight the work of PEF members and advocate for the essential services they provide.
"We are here to sound the alarm," Spence said. "It feels like we are trying to swim against a flood. We have been seeing some serious strikes — Kellogg's, John Deere, CWA. It's Strike-tober and I feel like the tide is turning in favor of the middle class, who have carried way more of the burden and seen too little of the rewards."
Fund Our Future aims to fight back.
"The goal of Fund Our Future is to make the case that privatization and the erosion of government services by means such as short-staffing, works against the public good and degrades the general economic prosperity and well-being of New York State," Spence said. "Most people don't think about state workers as a force for the public good. It starts with you, delegates and members. We want to hear your stories. We want to let New Yorkers know the work you do and how it affects their life."
From teachers to nurses to social workers to public safety officials to tax and finance, and more, every title within PEF is vital to the success and prosperity of New York.
"New York thrives when we invest in public services," Spence said. "Fund Our Future will play a key role in most of our organizing efforts – from member mobilization and training, to actions and events. It will be integrated into our legislative, contract, health and safety, and labor-management advocacy."
The Tasks Ahead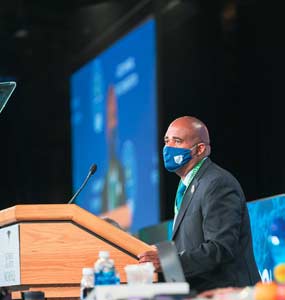 For the last year, PEF has been lobbying for hazard pay and that fight will continue in 2022.
"It is the height of hypocrisy that COVID heroes have not been compensated," Spence said. "Tons of people did out-of-title work in hazardous conditions, and they were called heroes. All of you do the work to keep New York running. A bill has been written for hazard pay and PEF will do everything in its power to make sure that bill becomes law."
The bill, drafted by New York Sen. Andrew Gounardes, would put $2,500 in the pockets of those deemed essential during the COVID state of emergency, and would also award them a week's worth of additional vacation time.
Safe and adequate staffing, a problem for many years, will remain at the forefront of PEF's agenda in the coming year. Fair pay and good benefits are vital to recruitment and retention and the fight against short-staffing. Since the pandemic began in March 2020, PEF has lost 5,000 full-time equivalent positions across the state.
"Governor Hochul made headlines when she first took office by lifting the statewide hiring freeze," Spence said. "We'll see what she does. You can't overtime your way out of a staff shortage. State jobs with union benefits and a pension used to be the gold standard. We need to get back to that."
The arbitrary 2 percent funding cap has done immeasurable harm to state services.
"It's time to get rid of the budget cap that makes politicians look frugal at the expense of the critical services PEF members provide," Spence said. "For more than a decade, the cap has hindered the ability of agencies to provide essential services."
Criticism of PEF and other labor unions continues, and we need to set the record straight, Spence said.
"It wasn't the union that brought everyone back to work with a haphazard plan," he said. "It wasn't the union that suddenly sprung the need to find day care on parents and caregivers. It wasn't the union that implemented testing or vaccine mandates with no plan on how to do the testing. It was New York State.
"PEF filed more lawsuits than any other union in 2020," he said. "We have advocated for sensible telecommuting and a staggered return-to-work plan. Your union secured COVID testing and quarantine leave and pushed for reasonable accommodations for child care and other family arrangements.
"I'll never stop working for you," he said. "If we are divided, we are weak."