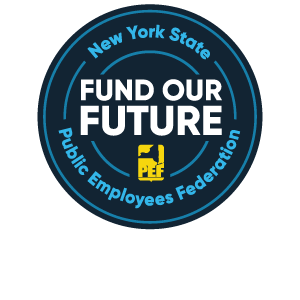 What do you do for the people of New York?
The answers given during the "In the Public Interest" workshop at the 2021 PEF Convention ranged widely, from archaeology to social work to Department of Motor Vehicles staff.
What PEF members do is what PEF wants to know and gather for its Fund Our Future campaign. And not just the basics, like "I'm a teacher" or "I'm a nurse" – details will drive home the message that New York thrives when services provided by PEF members are funded.
"What do you think as a whole New Yorkers think of the New York State workforce?" asked Donald Cohen, co-author of The Privatization of Everything: How the Plunder of Public Goods Transformed American and How We Can Fight Back.
Answers ran from "lazy" to "fat pensions" to "couldn't get into a private sector job, so got a public sector job."
PEF jobs are so much more, Cohen said.
"When I listen to you talk about what you do, I'm inspired by it," he said. "But everybody hates you. There's the gap we need to fill."
PEF Vice President Randi DiAntonio said this misconception needs to change.
"We hear government sucks," she said. "People think we're the reason taxes are so high."
Billionaires are busy funding anti-union campaigns – with more money and, thus far, better messaging.
"The 40- to 50-year attack on government isn't an accident," Cohen said. It's driven, he says, by ideologues, who truly believe small government is best; those who would benefit from a small government, such as large corporations wanting a piece of the government funding pie; and elected officials.
To save public services, everyone must unite and promote the public good.
"The only way is together," Cohen said. "Government is complicated. We have to rebuild trust in government and build support for the idea."
Cohen said it's up to the people to decide democratically what constitutes the "public good."
Is it child care? Health care? Higher education?
"We can decide that and we believe we should be able to," he said.
The biggest threats to public services include turning them into a commodity, competitors saying they can do the work cheaper, austerity budgets, and the upstate/downstate divide, according to members attending the workshop.
So what do we do about it?
"Some of it is your fault if all you do is talk in jargon and complain about your job," Cohen said candidly. "You have to become advocates for the public good."
This is where Fund Our Future comes in. Drop the jargon and tell the stories.
"We are the faces of public service," DiAntonio said. "Tell stories that they are going to remember. We need an army of educators."
About 130 delegates at the Convention stopped by the Fund Our Future room to record their stories. PEF produced one video that was shown on the last day of Convention and plans to use the additional material to mount a public awareness campaign in the year ahead.