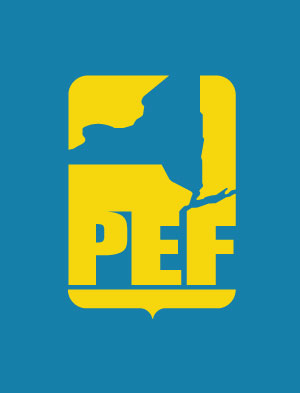 As a member of PEF, you know there are many benefits associated with being a part of the union.  But what about the new hires at your worksite?  With the pandemic raging, some or all these employees may not have had a membership orientation with PEF.
Those trainings are available via Zoom during an employee's lunch break or after work.  They cover a whole host of information: from the history of unions and PEF to the breakdown of union-elected representation to valuable membership benefits.
"Unions over the last 200 years have fought hard for workplace health and safety, vacation and sick time, overtime pay, workers' compensation, employer paid benefits and so much more," said PEF Director of Organizing Dan Carpenter during a recent Zoom membership orientation for new state hires in the PS&T bargaining unit.  "Management never wanted to give their employees these benefits.  Unions fought long, hard fights and we continue to build upon that work at the negotiating table."
PEF represents about 50,000 members across 3,000 professional, scientific and technical titles in nearly every agency in New York state.  Membership dues are primarily earmarked for contract negotiations and representing all PEF members in disciplinary, grievance, Justice Center and other labor/management issues.
Dues have remained the same for 20 years, only .9 of 1 percent of your salary.
The money saved by access to myriad membership benefits can easily surpass the cost of dues.
"We are the cheapest dues for a union on the East Coast," Carpenter said.  "There is no discussion about raising them."
What can a new hire expect to learn at a membership orientation?
PEF elected positions:  From statewide officers to Executive Board representatives, to local councils, orientation breaks down the positions that union members can vote on or hold.
PEF website:  Clicking on the "Members" tab on the homepage connects prospective members with the Online Membership Application, as well as information on the PEF departments dedicated to serving members, such as health and safety and training and education.
"If you feel like your workstation is not ergonomically friendly, PEF health and safety will send out a specialist who will go over it with you and the agency," Carpenter said.  "Training and education help you navigate the student loan forgiveness program, so you are successful in paying and when the time comes, your loan is eligible for forgiveness.  That's a huge benefit."
PEF contract:  The entire 200-plus page PS&T contract is available as a PDF on the website.  The contract outlines salary schedules, accruals, health benefits and co-pays, probation procedures and more.  A highlights PDF breaks out the most frequently asked questions about provisions of the contract.
PEF dues:  An orientation will give you details about how your dues are being spent.  At the top of the list are negotiating the contract and empowering members by offering them expertise, resources and guidance on the job.
PEF Membership Benefits:  The PEF Membership Benefits Program is not supported by PEF dues, but it provides members a variety of benefits including Assault, Trauma and Captivity (ATAC); Discharge of Official Weapon; Justice Center; legal defense; low or no cost college; and financial and credit counseling benefits.
"As a state employee, you are not eligible for New York State Disability Insurance from your employer," Carpenter said. "PEF Membership Benefits offers members the opportunity to purchase short-term, long-term and group life insurance. Members are encouraged to enroll during the first 240 days of employment."
Members should visit the PEF Membership Benefits website and check out the Benefits & Insurances tab for complete information, along with details about two other benefits members often find very helpful, low/no-cost college and student debt counseling.
Discounted movie tickets, water and theme park tickets, gift cards, sporting and entertainment events, skiing and area attractions are also very popular.  Just visit the PEF Membership Benefits website and check out the options under the Entertainment tab.
Do you know of a new hire in your workplace?  Share these benefits with them and urge them to contact PEF with any questions or visit the join PEF page.