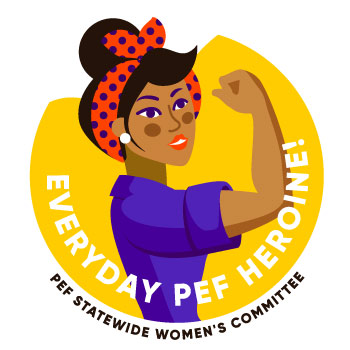 Women's History Month was established by Congress in 1987. In his March 1987 proclamation, President Ronald Reagan stated: "I call upon all Americans to mark this month with appropriate observances to honor the achievements of American women."
Next month, PEF will host a series of Zoom programs each Tuesday in March, as well as recognize and honor Everyday PEF Heroines in the April issue of The Communicator.
To nominate a PEF heroine, visit https://www.pef.org/everyday-pef-heroine/ and submit your nomination by March 31.  The first 100 members nominated will receive a Rosie the Riveter button and certificate.
All PEF members are invited to join their union brothers and sisters for Tuesday Talks in March, as follows:
March 1: Denise Young, a retired PEF organizer and community activist in Region 3, will present, Breaking the Bias: A Way of Seeing, Believing, Acting.
March 8: SUNY Stony Brook nurse Amy Pacholk, from Region 12, will present a program on Preventative Health Care for Women.
March 15: Paige Saakyan, a PEF occupational safety and health specialist and member of PEF staff's USW 9265, will present The Guide to Good Posture and Back Health.
March 22: Region 11 Licensed Clinical Social Worker Michele Rosello and Region 1 RN Lorita Mitchell will present together on Mental Health Prevention through Exercise and Self-Care Strategies.
March 29: Save the date – a program will be announced soon!
All Zoom meetings will be from 6:30 to 7:30 p.m. Follow this link to join.