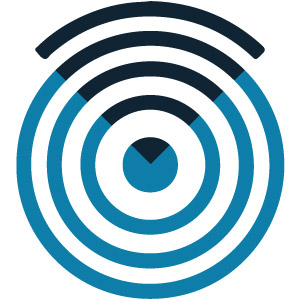 PEF members who joined the union's telephone town hall on Feb. 2 received updates on a broad range of issues from retroactive longevity pay to telecommuting and the state budget.  PEF President Wayne Spence hosted the call with various PEF directors speaking about issues relevant to their departments.
The program, which lasted just over an hour, aimed to answer as many of the more than 100 questions that members submitted in advance as possible.
Telecommuting
Spence told members that PEF continues to lead in pressuring the state to take advantage of telecommuting to maximize the health and safety of its employees in the continuing pandemic.
"You should be the first thing on the governor's mind," Spence said, adding that both the state and the city of New York are putting economic recovery ahead of their employees' health.  The state hands out free N95 masks to the public, but fails to provide them to its own employees, he said.
"They are in a hurry to bring people back to the 'cubicle farms,' he said, "but people are still getting sick."
Spence and PEF Director of Health & Safety Geraldine Stella called on the state to conduct contact tracing at state worksites to identify employees who may have been exposed to COVID at work.  In addition to telecommuting, Stella said state worksites need to provide improved ventilation, social distancing, higher-quality masks and screenings to reduce the risk.
PEF has trained more than 80 of its local leaders on these issues so far.
Thanks to PEF's advocacy, Spence said New York Attorney General Letitia James decided to let her employees continue to telecommute, and now state Comptroller Thomas DiNapoli has followed suit at the urging of PEF's leaders at that agency.
"Other unions are now asking for our contract language and our experience on this issue," Spence reported.
While telecommuting can reduce infection risk for many members, a majority of PEF members are in essential positions that must deal daily with clients and the public.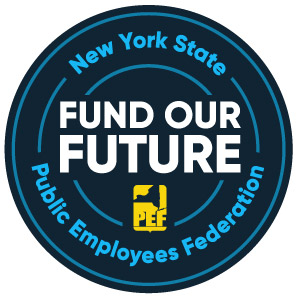 "At the end of the day, 58 percent of PEF members must come to work," Spence said.  For them, he said, PEF's advocacy has paid off with the inclusion of "hero" pay in the governor's state budget proposal.  In fact, he said, the union was pleased to find that Gov. Hochul's executive budget proposal contains many of the demands made in PEF's Fund Our Future campaign.
PEF Director of Organizing Dan Carpenter said his department has been busy distributing 30,000 KN95 masks to members who deal directly with clients and the public, and 8,000 cloth masks intended to be worn over a surgical mask with a message that declares: "I Should be Telecommuting."  Another 4,000 masks with a message that says "I Should be Earning Hazard Pay" are on order for members to wear over surgical masks while they are working in the office.
Members are responding.  "They've sent more than 77,000 letters to the governor, agency commissioners and legislators calling for telecommuting," Carpenter said.  He also urged members to send photos of them wearing the masks for sharing with state leaders and on PEF social media. You may email Communicator@pef.org with your photos.
Discipline
PEF General Counsel Ed Greene told members that every member who is potentially facing termination for failing to be vaccinated against COVID-19 is being represented by an attorney and the union has absolutely insisted that they be afforded all of their rights under the PS&T Contract Article 33, which deals with discipline.
He said that 213 members are facing discipline on the vaccination issue, but none has been terminated so far.  "Hearings have begun, but they have not been concluded," Greene said.  Although these members have been suspended without pay, PEF is making sure that they can use their accrued leave and they continue to receive their health benefits for as long as they continue to be state employees.
Eric Kwasniewski, PEF's director of field services in western New York, said the union's field representatives have been reaching out to members at the Office for People with Developmental Disabilities (OPWDD) and the state Department of Corrections and Community Supervision (DOCCS) to see if any of them are facing discipline over masking or testing issues.
"Only one notice of discipline has been issued so far," Kwasniewski said.  "If you've had issues, you should notify your field rep right away, because we only have 14 days to respond."
Retro Pay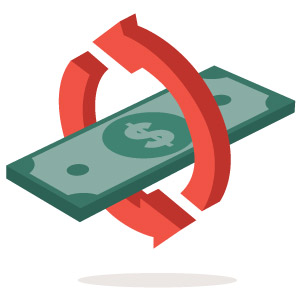 The state has issued the payroll bulletin to pay PEF members for their retroactive performance awards authorized in the PS&T contract.  PEF attorney Ed Aluck said there are three aspects to this pay that bumps up your salary when your years of service at satisfactory performance levels reach certain milestones.
"These payments will be issued as separate direct deposits or separate checks," Aluck said.  Eligible members on the state institution payroll schedule will receive the payments February 10 and those on the administrative payroll schedule will receive them February 16.
If you reached a five-year, or 10-year milestone after April 1, 2019, you will receive the award which is now $1,500. These awards were previously $1,250. Any employees who already received their awards at the $1,250 level from 2019-2021 will receive the $250 difference for each award earned during the period covered by the contract.
In addition to the five-year and 10-year awards, the contract now provides for a 15-year award that first became earnable in April 2020.
The retroactive payments are being issued in February, and members who hit these service milestones in 2022 will be paid in April of this year.
State Budget
PEF Legislative Director Patrick Lyons reported that the 2022-23 Executive Budget proposal provides 3.1 percent more funding for state operations and commits to supporting 500 more employees than at pre-pandemic levels. It also calls for resuming state civil service exams, which will be conducted at SUNY campuses.
The need for hiring is especially urgent now at the state Health Department's Wadsworth Laboratories, OPWDD and the state Office of Information Technology Services, Lyons said.
Continuation of design-build policies is a major disappointment for PEF in the budget proposal and something the union plans to fight as the Legislature holds hearings about the budget.
The budget would provide a $3,000 bonus to health care workers, including mental health employees, who have dealt directly with clients or the public through the pandemic.  In addition, it provides funding to repay nurses' student loan debt for up to three years.  PEF is working to get this benefit expanded to cover more essential workers who were mandated to work, at great risk to themselves and their families, during the state of emergency.
PEF is also lobbying for improvements to Tier VI pension benefits that would allow for vesting in five years, and the inclusion of any pandemic-related overtime earnings in calculating an employee's final average salary.  PEF is also pushing for an increase in the percentage used in calculating the Cost of Living Adjustments (COLAs) to annual state pensions.
PEF is calling for the state to hire 500 more parole officers to ease the current caseloads that average 40 parolees per officer.
Spence told members, "We are looking for a change in the political culture.  You need to call your legislators and demand hearings on our issues, because out of those hearings we could get laws that make real change."
"When you speak out, elected officials, including the governor, hear us," PEF Political Director Leah Gonzales said.  "It's very important for you to participate and be active.  Sign the Fund Our Future petitions and participate in your regional PEF Political Action Committee (PAC).  The more we can show legislators who we are, the more they listen."
Spence thanked members for their dedication and service and told them, "We are living in a unique time, and the state wouldn't run if it weren't for us.  We can make a difference."