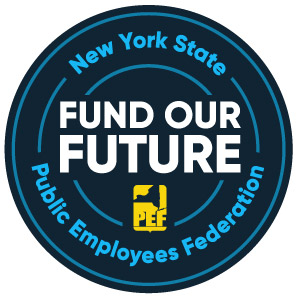 PEF Vice President Randi DiAntonio made the case for funding our future to state Assembly and Senate leaders January 31, advocating for increased staffing and salaries; an end to facility closures, cuts and consolidations; and improvements to the Tier VI pension plan.
"Our members are exhausted, burnt out and frustrated with the lack of staffing, resources and professional respect," DiAntonio said during the Workforce Development Joint Legislative Budget Hearing. "Morale is as low as I have ever seen it."
DiAntonio stressed the importance of recruitment and retention of the skilled state workforce.
"While we appreciate the lifting of the hiring freeze, it is not an immediate fix to slow the current hemorrhaging of the state workforce," DiAntonio said, citing a statistic that in 2021, state employees worked 19 million hours of overtime, costing the state $850 million. "How many staff vacancies could be filled with $850 million? How much more effective would service delivery be if we used those resources to increase staff and reduce overtime?
"The erosion of the state workforce has had a negative impact on work culture, increased attrition and resignations, and has severely limited the ability of the state to attract talent," she said. "Even though we have robust time off and health care benefits, time off isn't worth much if you can't take it due to no staff."
PEF supports portions of the budget, urges change to others 
The governor's 2022-23 executive budget earmarks funding for healthcare worker retention bonuses, would establish tuition scholarships for certain nursing titles, and proposes reforms to Civil Service. Some of the language mirrors what PEF proposed in its Fund Our Future campaign.
"We are pleased the governor has advanced propositions in the budget that give us a real opportunity for change," DiAntonio said. "We have monies to fix things: the question is, are we going to direct them to the right places?"
The union supports the long-overdue healthcare worker retention bonus program included in the 2022-2023 budget proposal – what PEF has long called "hazard pay" —  but argues it needs to be expanded.
"Our heroes have served our state valiantly and have earned this important benefit," DiAntonio said. "While we very much appreciate and support this benefit, our healthcare workers are not the only 'essential' workers who risked their lives and the lives of their families in service to New Yorkers.
"Parole officers have worked to keep communities safe and parolees on the path to success; DOH employees set up testing sites and conducted contact tracing; DOL staff worked to ensure the disbursement of critical unemployment benefits; and there are many other examples of critical services that PEF members were directed to do as part of their official duties during this crisis. We need to recognize these heroes as well."
PEF also supports the Nurse Across New York Program, but urges the state to expand coverage to all nursing titles and additional state agencies that have been difficult to staff, such as DOCCS, OPWDD, OMH and OCFS.
Changes to Civil Service, including continuous recruitment testing, promotional competitive exam changes and shift pay differentials are welcome additions to the budget proposal.
As a recruitment and retention tool, DiAntonio said the Tier VI pension plan needs improvement, including reestablishing the standard 3 percent employee contribution; reinstitute five-year vesting; and repealing or suspending the overtime cap, at least during the pandemic.
Design-build and privatization of state services remain a major concern for PEF members.
"This budget continues the disturbing trend of using private for- and not-for-profits to do work once performed by the state's workforce," DiAntonio stated. "We believe the state workforce is best suited to deliver public services. Privatization isn't working. It's time to fund our future."
Editor's Note:  You can view VP DiAntonio's testimony, here; and read the complete written testimony PEF submitted to the committee, here.