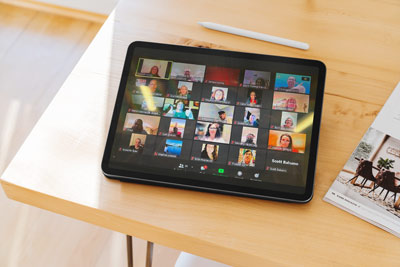 The power of social media is always at our fingertips.  While unions are in the public eye, it's a perfect time to make the best use of hashtags, Facebook posts, Twitter "tweets" and "retweets" and tagging friends, family and organizations.
PEF held a training via Zoom last month to outline the different ways to interact over social media and how best to use it for union organizing and publicity efforts.
"It's free," said Tamara Carney, a training specialist at PEF.  "Say, you have something like a rally, or you have COVID issues, and you need to get the word out.  We're able to share in real-time on Facebook Live or on Twitter.  It's great because we can show people what we are doing in the moment."
With 70 percent of the American public using social media, and 56 percent of adults using two or more platforms, social media is a powerful tool in the union arsenal.
"Seventy-two percent of adults 50 to 64 use Facebook and 99 percent of adults 18 to 49 own a cell phone," Carney said. "Your phone is with you all the time."
What makes a good post or Tweet?
Posts with links, pictures, videos and tags to groups, pages, events and people are most effective, said Carney.  If you include a hashtag, like PEF's #FundOurFuture or #PEFDOESIT, you are helping congregate all content pertaining to that topic in a way that is easily searchable.
"Hashtags are Twitter's way of categorizing topics," Carney said.  "Make it short, make it relevant, make it memorable, make it unique.  If you repost or share, add at least one word that illustrates your feelings about the original.  If you share a link, say something about the article or information."
It's important to observe a few dos and don'ts of social media:
Do
Listen to your audience
Stay positive
Entertain more than inform
Use artwork
Share without expectations
Proofread
Don't
Be a know-it-all
Be fake
Repeat the same message
Forget to give credit where it's due
Go weeks without posting
Members should follow PEF on Facebook, Twitter and Instagram, and share anything they find helpful or interesting with their networks.