December 21, 2022 — An impressive turnout at the Albany Labor Day parade, with signs and shirts demanding a fair contract, got the ball rolling again towards a collective bargaining agreement for PEF members at the Albany County Probation department, who have been in negotiations with the county for nearly a year.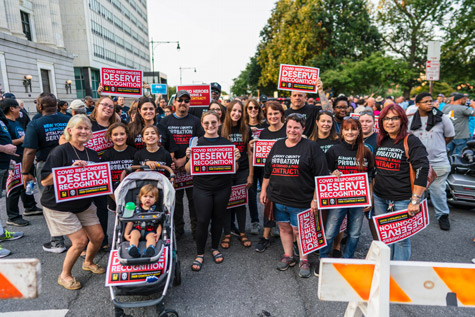 They reached a strong tentative six-year agreement, retroactive to Jan. 1, 2022, containing no givebacks. For the first time since Albany County Executive Dan McCoy took office, members would be getting more than 2 percent raises across the board – with this contract locking in two years with 2 percent raises and four years with 3 percent. 
"The PEF Local 502 leadership, committee members and the negotiating team, alongside our field representative, worked hard and tirelessly for over a year to get a fair contract that would benefit all its members," said Council Leader Tricia Drautz. "Not only do we feel we have done that but we have also begun to address retention of our members by fixing and adjusting the salary chart for Senior Probation Officers and Supervisors."   
The top step of the longevity chart for the most senior employees would increase under this contract to a $5,000 per year longevity bonus, up from $1,400.  
There would also be a 20th step on the salary charts to allow very senior officers to be compensated for their dedication and service to the people of Albany County.  
The contract also includes wins for dental and vision insurance improvements. 
"This deal was reached through member mobilization when contract negotiations were stalling," said PEF President Wayne Spence. "The members rallied and turned out a huge contingent in the Albany Labor Day Parade, marching to demand a fair contract.  
"McCoy was there that day and believe me, he noticed," said Spence.  "Immediately following those efforts, contract negotiations restarted, and we were able to work out a strong deal." 
PEF negotiated a $3,000 ratification bonus and if members vote to approve the tentative agreement, it goes to the PEF Executive Board for approval. The county must also get the terms of the agreement approved by the Albany County Legislature.  
Work on these efforts will begin immediately.