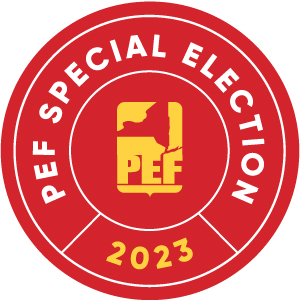 The first quarter special election is underway to fill 14 vacant Executive Board seats.  
Petitions are due by 5 p.m. February 1, 2023. The term of office will be until July 31, 2024. To be nominated for an Executive Board position a candidate must have been a regular PEF member since August 5, 2022. 
"Keeping our Executive Board seats filled ensures that every member has a voice and a seat at the table when we are discussing and voting on the business of the union," said President Wayne Spence. "I encourage anyone who is eligible and interested to run for election."  
The following seats are vacant:  
Seat 1, Agriculture and Markets; 

 

Seat 15, Civil Service; 

 

Seat 25, DOCCS;

 

Seat 55, Economic Development;

 

Seat 90, Higher Education Services Corporation; 

 

Seat 101, SUNY Stonybrook; 

 

Seat 104, SUNY Stonybrook; 

 

Seat 172, Information Technology; 

 

Seat 173, Information Technology; 

 

Seat 255, Law;

 

Seat 395, Office for People with Developmental Disabilities; 

 

Seat 425, Public Service; 

 

Seat 535, DOT; and

 

Seat 545, Political subdivisions of NYS.

 
For more information, election rules, and petitions, visit www.pef.org/elections. For hardcopy petitions, contact the PEF Divisions Department at 800-342-4306 ext. 337 to have a supply mailed to you. Petitions will not be available for pick-up at PEF Headquarters or any PEF Regional Office. 
For any contested election, ballots will be mailed on February 22, 2023, by AAA and must be returned to the address listed on the return envelope no later than 5 p.m. on March 15, 2023. 
If you have any questions, please email the PEF Special Elections Committee at SpecialElections@pef.org.