"Know your contract," "Ask your field rep," "Don't be scared of the process" — those are just a few of the lessons leaders from PEF regions 6 and 7 heard on Dec. 2-4 at their Leadership Conference at Turning Stone Resort in Verona, N.Y.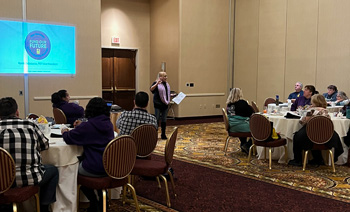 The two-day meeting was held in person for the first time since April 2019.  Thirty-two leaders gathered for a series of presentations and workshops aimed at making them effective union leaders.  The members were joined by three statewide officers — PEF Secretary-Treasurer Joe Donahue, Vice President Sharon DeSilva and Vice President Randi DiAntonio – and staff from PEF departments. 
"I just want to thank the Statewide Officers, Regional Coordinators, and PEF staff who attended and assisted with making the conference a huge success," said Region 7 Coordinator Barbara Stransky. "A special thank you to PEF Special Events, who assisted with the planning of the leadership conference for almost a year." 
At the conference, leaders were trained and educated on topics including worker's compensation, division checkbooks, Civil Service hiring processes, COPE, grievance procedures, and building a powerful membership. Representatives from PEF Membership Benefits, Liberty Mutual and Aflac were also on hand to answer questions and hand out valuable information. 
The conference concluded on Dec. 4 with a presentation by Vice President DiAntonio about the "Fund Our Future" coalition PEF leads that works to safeguard public services across the state.   
"I hope everyone who attended was able to take away from this experience beneficial training and knowledge about the rights, protections, and benefits PEF provides for its members," said Region 6 Coordinator Christopher Dunham. "Most importantly I want to thank our leaders who spent a weekend away from their families and homes." 
Additional PEF Regions will hold leadership conferences next year, including Regions 1 through 5, which is planning their annual event on Feb. 24-25, 2023, in Ithaca.