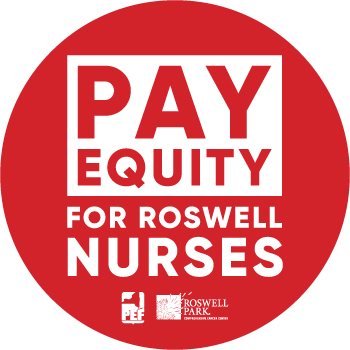 December 21, 2022 — The PEF Roswell Park Contract Team and management from Roswell Park Comprehensive Cancer Center (RPCCC) have agreed to reallocate the salaries of the more than 680 PEF nurses employed by the facility in Buffalo.  
Since Roswell is not part of the State's Civil Service system, nurses who work there were not eligible for the broad title restructuring announced by New York earlier this year after decades of lobbying by PEF.  Recognizing that unfairness – and knowing that nurses have historically been undervalued and that compensation is a key factor for retaining and attracting skilled professional nurses – PEF-represented nurses immediately went to work, creating a petition and gathering more than 750 signatures demanding Roswell increase nursing pay grades and base salaries to better match the education and skills required for their jobs.  The petition was given to the Chief Nursing Officer at Roswell and a campaign to go public with the unfair treatment of Roswell nurses was created in case management refused to listen.  
Those actions led to a series of conference calls between PEF staff and leaders and Roswell management, culminating in a face-to-face meeting on Dec. 13 in Albany.  At that meeting, details were ironed out for a salary reallocation for titles in the Roswell nursing community.   
"PEF had every intention to do whatever it took to ensure nurses at Roswell received the compensation and upgrade that they deserve," said Nurse 2 Jordan Blatz, who is a member of the Roswell Contract Team. "It was great to see both sides negotiate efficiently to reach a positive outcome that recognizes the continued hard work of the nurses at Roswell Park Comprehensive Cancer Center."  
"PEF refused to accept anything less than what our nurses deserve," added fellow Nurse 2 Theresa Burke, who is also part of the team negotiating a new contract for PEF members at Roswell.   
"I would just like to thank the three nurses (Michele, Jordan and Theresa) who make up the Roswell Park Contract Team for the countless hours spent away from their personal and family lives to work on securing better salaries for Roswell nurses," said Yatram 'Bruce' Jagroop, an occupational and environmental safety specialist at Roswell.   
A joint letter was sent to Roswell's Classification & Compensation Office from PEF President Wayne Spence and RPCCC President and CEO Dr. Candace S. Johnson requesting the reallocation.  The letter recommended a three-salary grade increase for each applicable employee, which according to the terms of the PEF contract will amount to a six percent increase in base salary or the increased hiring rate of Step 2 of the salary grade members move up to, whichever is greater. For employees already receiving longevity payments, the amount of the longevity (performance award) will be added into their new promotional base pay in accordance with the PEF contract.     
PEF received word on Dec. 20 that the recommendations were approved by Roswell's C&C Office and will go into effect on April 6, 2023. 
"I am so glad that the hardworking nurses at Roswell are being rewarded," said PEF Region 1 Coordinator Michele Silsby, a senior nurse case manager at Roswell. "We work with some of the most challenging and complex patients and this recognition of the world-class skills and training Roswell nurses bring to their jobs is long overdue."  
The salary upgrade pertains to the following titles: 
Nurse I
Clinical Research Nurse
Nurse II (Employee Health Clinic)
Nurse II (Per Diem)
Nurse II
Nurse II (Endoscopy Team Lead)
Nurse II (Operating Room Team Lead)
Case Manager
Microsurgical Nursing Specialist
Nurse II (Operating Room Multi-Specialty)
Nurse II (Perioperative Multi-Specialty)
Oncology Nurse Coordinator
Enterostomal Therapy Nurse
Nursing Staff Development Instructor
Senior Case Manager
Transplant Nurse Coordinator
Community Liaison Nurse
Nurse II (First Assistant)
Nursing Supervisor
Oncology Clinical Nurse Educator
Perioperative Nursing Supervisor
Senior Clinical Pathway Coordinator
Clinical Nurse Manager
Clinical Research Center Administrator
Transplant and Cellular Therapy Compliance Administrator
"We believe this upgrade recognizes the education, skills, experience, dedication, and hard work of nurses at Roswell," said President Spence. "It is our hope that it will improve Roswell's ability to recruit and retain nursing professionals."