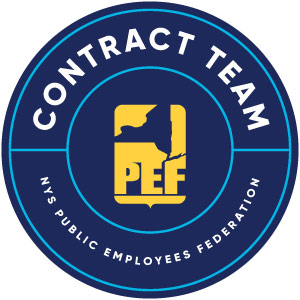 December 21, 2022 — The PEF PS&T Contract Team held its second meeting with the Office of Employee Relations on Dec. 13.  It was the first face-to-face (i.e., non-virtual) meeting and every member of the team was present:  Scarlett Ahmed, Department of Labor; Vincent Cicatello, Office of Mental Health; Ricardo Cruz, Downstate Director of PEF Field Services; Conrad Davis, Taxation & Finance; Chris Ford, Office of Information Technology Services; Deb Greenberg, PEF Contract Administration Director; Ed Aluck, Contract Administration Associate Counsel William Holthuasen, Region 12 Coordinator; Maureen Kozakiewicz, Department of Motor Vehicles; Jeanette Santos, Department of Health; and Cynthia Walker, SUNY Downstate.  Also present at the meeting were Chief Negotiator Mark Richard and PEF Contract Administration staff Erika Frasier, Ben Translavina, Sean Shields and Marci Chadwick.  
Each member introduced themselves and spoke about particular issues in their workplaces and the needs members have told them they would like addressed in the next PS&T contract.  The main issues noted were:  
Compensation, including across-the-board raises, location pay and longevities;

 

The inadequate dental plan and its lack of network providers;

 

Improving work-life balance, by making things like telecommuting and alternative work schedules more flexible;

 

Equity and fair treatment for long-term hourly employees;

 

Eliminating sunset provisions in the contract that historically have expired at the end of the contract term, such as the tuition reimbursement benefit;

 

Recruitment and retention issues and how to improve them, by offering things like loan assistance, better child care, etc.;

 

Onboarding and orientation of union members; and

 

Alternative uses of leave accruals, such as cashing them in or using them to a greater extent to offset health insurance costs.

 
The team also discussed title restructuring, even though that is not something that can be negotiated as part of the CBA.  PEF felt it was important to note recent achievements in that regard and to encourage the State to keep that momentum going as the union pushes to reallocate/restructure additional historically underpaid titles.  
The tone of the meeting was cordial throughout.  PEF stressed that while compensation is always top-of-mind in negotiations, there are plenty of additional stresses members face at work that we'd like our next contract to help alleviate.  Paychecks are always important, but so are respect and working conditions.  Our members, especially in hospital and facility/institution settings, need to be able to use their vacation time, take lunch and other breaks and receive sufficient training to perform their jobs.  PEF recognized the issues New York is facing statewide when it comes to recruiting and retaining professionals and pledged to work together in this contract and outside of it to address that critical fact.  
The two sides agreed to meet again on January 10 and 11, and February 7 and 8.