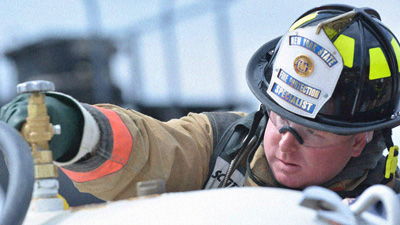 January 4, 2023 — In a legislative win for PEF, Gov. Kathy Hochul signed a bill that provides a three-quarter accident disability benefit for PEF fire protection specialists. 
The new law allows fire protection specialists to receive an accidental disability benefit provided that the injured individual is physically or mentally incapacitated as a natural and proximate result of an injury sustained while actually employed as a fire protection specialist.  
"Fire protection specialists put their lives on the line serving as frontline workers in every emergency situation and are deployed to wherever the need arises. This law now recognizes the unique and dangerous jobs they perform," said PEF Vice President Randi DiAntonio, who chairs the union's Statewide Political Action Committee. "Fire protection specialists are often exposed to the very same toxins as firefighters and therefore have a heightened risk of developing debilitating health conditions." 
PEF will continue to lobby and advocate for member needs through legislative action. 
"Working together, we got it done," she said. "A special thank you to the members who called their representatives and the governor in support of this important bill."