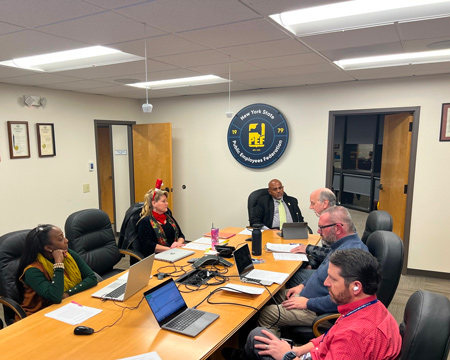 December 21, 2022 — When Gov. Hochul and the New York State Department of Civil Service (DCS) announced title restructuring for nurses across the State in October, one PEF title was noticeably absent – Registered Nurse 3.  The restructuring kept them at a salary grade of 20 and changed their title to Nurse 2.  
So PEF went to work on behalf of those impacted members, creating a survey to assess their concerns.  All 255 members with the Nurse 3 title across the State were invited to participate.  One-hundred-and-fifteen (115) members (45%) responded and took the survey. PEF does not have contact information for about 60 members with the title of Nurse 3, so is encouraging colleagues to share this story with them in the hopes that their concerns can be heard as well. 
A number of Nurse 3s reported performing activities that seem to be outside the scope of their official duties. This might be grounds for advocating that DCS take another look at the Nurse 3 title. It could also be grounds for out-of-title work grievances. 
PEF held a telephone town hall for all Nurse 3s last week to update them on the advocacy being done on their behalf.  PEF President Wayne Spence urged impacted members to contact Nurse Coordinator Nora Higgins at Nora.Higgins@pef.org to discuss their situation. 
"We heard the concerns of members who felt they were left out of the recent nurse title restructuring," said Spence, "and are committed to doing everything we can to address those concerns." 
He encouraged members on the call to share the information with colleagues so PEF can better represent everyone's concerns.