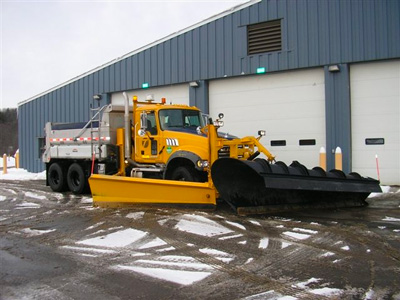 You've seen them, driven behind them, or maybe even tried to pass them.  
State Department of Transportation (DOT) plow trucks are massive. Some have one or two wings, and some are called a tow-plow, with one truck towing a plow behind. They can be 35 or more feet long, 12 or more feet wide, and weigh more than 22 tons. 
It's vitally important that the drivers behind the wheels of those trucks know them inside and out. From a couple inches of snow and ice to a whiteout blizzard, there is no room for error on the roads. 
PEF members at DOT make sure those drivers are competent and qualified. 
Gerald Stuart, David Faulkner, Leland Bockus, Gerald Vantreese, Brian Hudson, and Wheeler Koch in PEF Region 2 are responsible for that training as DOT equipment operator instructors. 
"When a person starts with DOT, off the street without a commercial driver's license (CDL), we train them to obtain their CDL," said Stuart, a supervising equipment operator instructor and PEF member since 2015. "We train on a lot of pieces of equipment, including plows, excavators, bulldozers, street sweepers, anything the state uses to get the job done. We teach them how to run that piece of equipment and then sign off when they have competency in it." 
Covering Alleghany, Steuben, Yates, Chemung, and Schuyler counties, these PEF members provide the rigorous and extensive training for state employees in their DOT region, but also offer guidance to local municipalities and counties. 
Their goal? Simple — keep everyone safe. 
"It's important for us to teach them how to do the correct things to be safe, not just for themselves, but also the traveling public," said Faulkner, who joined PEF in 2019. 
"When we certify these drivers, we are saying that they are good for you, and your family, and my family," Stuart added. "We want them to be out there safe. With snow fighting, for example, we don't do our job just for us and our operators, we do our job for your family." 
You can do your part 
With training on more than 40 pieces of equipment, these PEF members play a vital role in keeping their communities and their coworkers safe. 
But the public needs to play their part, too. 
"There are a lot of unsafe drivers who don't pay attention," said Stuart. "There are a lot of distractions, including people on cell phones and texting."  
The team shared one story where a plow was turning left at a traffic light and was passed on the right by a car also making a left that didn't want to get stuck behind the truck.  
"Everybody is in such a hurry," said Hudson, a PEF member since 2017.  
Stuart said while snow fighting, trucks can't exceed 35 miles per hour. 
"Everybody complains, why do we go so slow?" Faulkner said. "We can't spread salt going 55 miles per hour down the road. The plows are not just scraping the road, we are also trying to put the abrasive where you want it – in the lanes, not thrown just anywhere." 
Hudson said giving operators room to work is important. 
"They have certain things they have to do to get things done safely," he said. "Pay attention to what they are doing and what their signals are." 
Following behind the truck is the safest place to be, Stuart said. Just realize that it's going to be slow. 
"If we're out there and we're plowing the road, the road behind us is in better condition," Stuart said. Trying to pass the trucks not only puts you at risk because of the road surface, it also means you are traveling faster — perhaps faster than safe for the conditions. 
Outreach and education 
PEF members visit schools to educate children on safety and operation of plows and other heavy equipment. 
"We do a lot of outreach with the schools," Stuart said.  
"Kids can get inside, we show them all the controls and levers," Faulkner said.  
By educating kids, DOT staff hope they pass on what they learn to their parents and maybe even influence them to drive safely around plows and other heavy equipment. 
So next time you encounter heavy vehicles on the roads during good weather, before you get impatient and try to get around them, remember they are training operators to keep you and your family safe when conditions are more dangerous. 
"We're trying to train them on dry roads well before they have to do it in a blizzard," Stuart said.