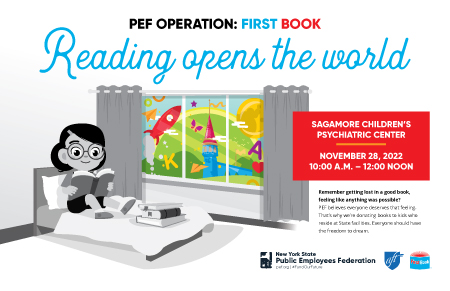 December 7, 2022 — The holidays came early for youth at the Sagamore Children's Psychiatric Center in Dix Hills on Long Island when "PEF Operation: First Book" paid a visit.
Each child had their pick of books donated by PEF and could take with them three titles of their choosing.
On November 28, PEF President Wayne Spence and local PEF leaders were joined by AFT Vice President Evelyn DeJesus, Office of Mental Health Commissioner Ann Marie T. Sullivan, and Justice Center Executive Director Denise Miranda to distribute new books to children at the center.
"We targeted a secure facility like Sagamore because every kid deserves to dream inside the pages of a book," Spence said.
The event was jointly sanctioned by the union and management at Sagamore, with members allowed to attend and assist with book distribution, then have lunch and chat with PEF leaders about what the union is doing for them.
"It really is just proof that when labor and management come together, we can accomplish great things," said Spence.
PEF's parent union, AFT, partners across the country with First Book, a nonprofit social enterprise that provides new books, learning materials, and other essentials to children in need. AFT and First Book celebrated 10 years of partnership in 2021 and over that decade distributed 7.5 million books nationwide. Since its founding in 1992, First Book has distributed more than 225 million books and educational resources to programs and schools serving children from low-income families.
PEF held a couple First Book events before the pandemic and President Spence has recommitted the union to the venture now that it is safer to hold in-person events. AFT awarded PEF a $5,000 grant from its Solidarity Fund so PEF could purchase the books. Some of that money was used to purchase books for the event at Sagamore, where about 100 books were given away to kids, but the rest will be used to buy more books for similar events across the state in 2023.