December 21, 2022 — When there is a house fire, a natural disaster, a mass casualty incident, a critical need for blood donation, support for miliary families, and so much more – the American Red Cross is there.  
And many times, so are PEF retirees and members. 
On the frontlines in times of need 
Retiree Peggy McGee-Smith, a longtime PEF member who worked as a community mental health nurse at Buffalo Psychiatric Center, volunteers with the Red Cross Disaster Mental Health team, deploying to disasters and mass casualty locations across the country. 
"My main focus is on mental health and disaster survivors," McGee-Smith said. "The Disaster Mental Health team is often the lead on mass casualty incidents. Pulse (a mass nightclub shooting in June 2016) had a big impact on me." 
But sometimes the most memorable experiences aren't big at all, she said. 
"I had to go through back woods in Arkansas to meet a woman and her husband," McGee-Smith recounted. "She said, 'You're not from around here.' I said, 'I'm from Buffalo, New York,' and she was surprised and said, 'You came all the way out here to help me?'" 
"That was so powerful for her, that people from another part of the country would come," she said. "That's what keeps me going. That's what's important to me. We talk about compassionate presence. We don't always have to do something, we just have to be present, so people know they are not lost or forgotten." 
McGee-Smith finds working with new people rewarding. 
"When you work in mental health, you often work with the same clients, sometimes for years," she said. "With the Red Cross, we help people for a couple of weeks, and then I come back home. There is a beginning and an end to the work." 
You can stay close to home 
Roberta Roma, who lives near Buffalo, worked as a nurse at the Western New York Developmental Disabilities Services Office from PEF's founding in the late 70s, until her retirement five years ago. With grandchildren keeping her busy, Roma stays close to home while volunteering, but she can still make a difference in so many ways. 
"I started out slow," she said. "I did office work at our local chapter. The one thing I really like about the Red Cross is that you can do as much or as little as you want to do. You can set your own pace." 
One of Roma's favorite assignments is working with the Services to Armed Forces program, where the Red Cross "helps members of the military, veterans and their families prepare for, cope with, and respond to, the challenges of military service," according to the Red Cross website. 
With case files on military families in their service area, Red Cross volunteers reach out to families and educate them on what services are available. Some of the services you wouldn't immediately connect with the Red Cross, since it's most well-known for disasters and blood donation. 
"Anytime there is an emergency at home, like a death or critical illness, and the military member needs to come home, we can connect the military with hospitals and/or funeral homes to facilitate that for them," Roma said. The service can also go the other way, with the Red Cross working with families if something happens to a deployed loved one. 
The Red Cross has been serving the military for more than 140 years and has deployed alongside the military in every U.S. conflict since the Spanish-American War. On the home front, volunteer social workers and psychologists can assist with mental health; other volunteers can work with discharged, post-service or retired service members who are homeless. 
"It's a great line of service to get involved with if you are a nurse, social worker, or psychologist," Roma said. "It doesn't require you to leave your area and go to disasters, but it provides a lot of help." 
The work is rewarding but can also be heart-breaking. 
"Some volunteers go to VA hospitals," Roma said. "The Red Cross has people who go to the hospital to provide a hand to be held at the end for a vet who has nobody. No vet dies alone. 
"People don't realize it, they see Red Cross as blood donation or going to a hurricane response, but behind the scenes are so many different things you can support," she said. 
Not just fire response, also fire prevention 
Almost everyone knows the Red Cross deploys volunteers after house fires, providing information, care kits, and financial support through a special card or temporary housing assistance. 
But the Red Cross does even more, before the fire. 
"Our smoke detector program is a direct link to preventing fire," Roma said. "It's another way we can save lives." She shared a story of a multi-family home her husband installed smoke detectors in that burnt down a few short weeks later. "They credited Red Cross for saving their lives." 
Through the Sound the Alarm Campaign, local volunteers and partners can inspect a home and if needed install smoke alarms in homes that don't have them. 
A way to keep serving your community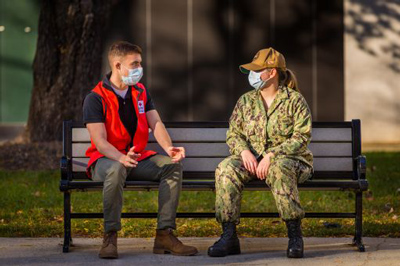 After a few years or 30 years of public service, some people want to do more. The Red Cross can help you find your volunteer niche, so you can keep helping communities. 
"People who don't know about the Red Cross wonder where their dollars go when they donate," Roma said. "They're helping with living arrangements after fires and disasters, they are helping nurses work with insurance companies to get medications that were lost. Not everybody is responding in the field, some may be more comfortable making calls." 
 "I think it's a great way for PEF members and retirees to volunteer," McGee-Smith said. "There are a wide variety of things we can do. The Red Cross will train you in any area of interest you have." 
The Red Cross is mobilizing to increase participation in two services where PEF members and retirees can really make a difference. 
"We have a great need for our Disaster Mental Health Team and Disaster Health Services team, both of which support the physical and mental health support component of our disaster relief efforts within shelters and local responses," said Grace Wach, a volunteer recruitment specialist with the Red Cross who attended the PEF Convention as a guest speaker. 
"We are also looking to increase participation in our Volunteer Medical Screener role that assists with health histories when blood donors come into blood drives," she said. "We have Disaster Recovery Caseworkers who help to find mental health support systems for our clients who experience housefires and flooding, so that role may also be of interest to current PEF members in the health-related fields." 
To explore volunteer opportunities with the Red Cross, click here.