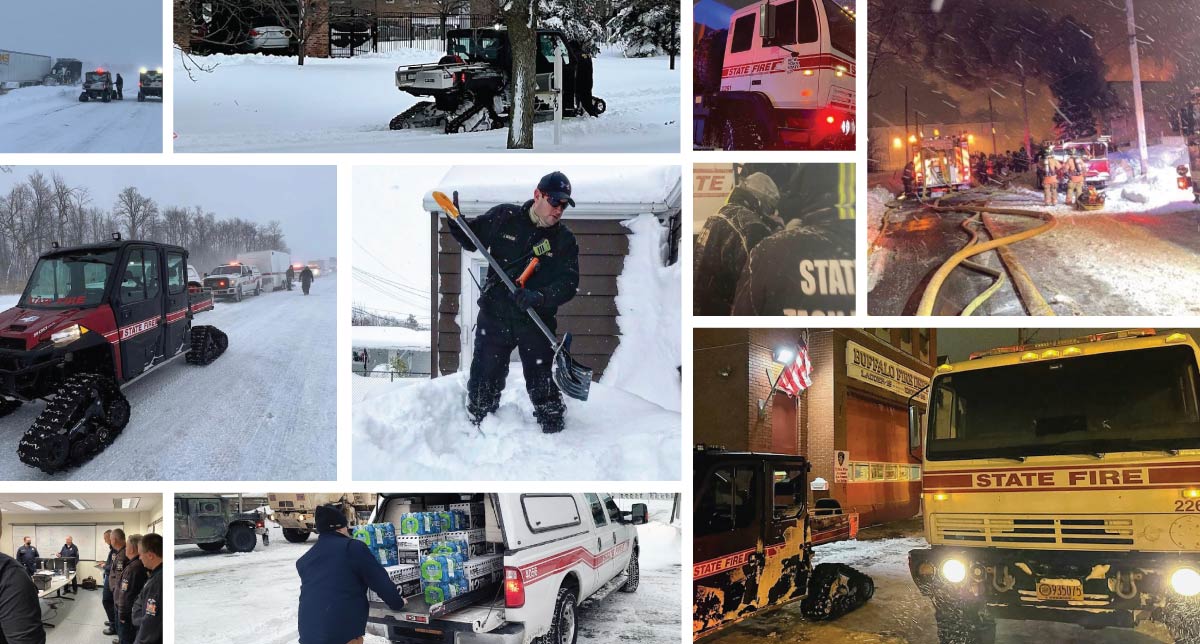 January 13, 2023 — Buffalo and the surrounding area were slammed over the Christmas holiday by one of the worst weather-related disasters ever to hit western New York, dumping more than four feet of snow in some areas and leaving dozens dead.  
PEF has members living and working in the area who were impacted by the massive storm, as well as members from around the state and from multiple agencies who responded to assist in its aftermath. 
Snowed in 
At Roswell Park Comprehensive Cancer Center, members began "code white status" on December 22 and were still in that status days later. Others were snowed in at DOCCS facilities, OMH locations, OPWDD group homes, and more. 
At the Western New York Children's Psychiatric Center (WNYCPC), more than half the staff remained at the facility – some having made plans to stay and others unable to travel home as snow began to fall fast. They slept on an empty ward and everyone from nurses to therapy aids to maintenance staff pitched in.  
"It was like a hurricane of wind," said Division 167 Council Leader Patricia Moran, who spent 69 hours at WNYCPC during and after the storm. "The snow was coming through the windows. The kids never felt the impact because the staff worked together and planned activities, like gingerbread houses and a visit from Santa."  
PEF member James Hoinski donned the iconic red suit. Michael Palmowski, the plant supervisor, spent more than 70 hours at the facility to make sure everything ran smoothly. 
"All our PEF brothers and sisters deserve recognition for their work," Moran said. "They did what they had to do to keep everybody safe and to serve our community. I'm really proud, everybody went above and beyond."   
On the ground 
PEF members across the area, as well as across the state, hit the ground running as soon as possible to clear roads, rescue people stranded in cars, dig out ventilation at homes, and assess and assist people dealing with the trauma. 
Fire protection specialists and State Fire personnel from the Department of Homeland Security and Emergency Services (DHSES) turned out in force, bringing the work they do into the national spotlight. 
They checked hundreds of vehicles and houses in one day. 
"The people of Buffalo were in need, and we answered," said Benjamin Giles, a Division 179 steward and fire protection specialist. "One man was brought out to the street on a mattress. Fire protection specialists were there, and he was taken to the hospital. People were stranded in cars without heat and not knowing what their future had in store, but fire protection specialists were there to help. 
"We showed up," he said. "During this event, shifts were 12 hours and depending on where people were and their roles, they were deployed up to eight days, including Christmas day. Our office was engaged in 24-hour operations from beginning to end. We saved many lives." 
Among their tasks, crews assigned to Buffalo Fire assisted with response to multiple structure fires, getting firefighters to inaccessible areas; restocking firehouses with water and food; conducting welfare checks and cleaning furnace exhausts; assisting emergency medical service transport by Utility Terrain Vehicles (UTV) shuttles, and more. 
There was an outpouring of thanks from officials, area residents and fellow first responders, including Gov. Kathy Hochul, who recognized their efforts during a virtual storm briefing on December 26. 
"We had a situation where the head of surgery at ECMC (Erie County Medical Center) was trapped in a vehicle with his elderly mother, and they're running out of fuel, and they're rescued by our State Fire teams as well, who have been doing an extraordinary job," Hochul said. "I don't think a lot of people talk about the State Fire teams, but they have been everywhere, really the backbone of this operation for us." 
Two emergency medical technicians stuck in the snow for 12 hours took to social media to share their gratitude. "State Fire saved us and they are forever my heroes," one wrote. "We are safe and warm now." 
Members with the Department of Transportation (DOT) also mobilized, activating their Regional Operations Center (ROC) and coordinating the response. 
"PEF members responded tirelessly throughout the event in the ROC and the field," said Executive Board member Paul Uebelhoer, a DOT engineer. "Members fulfilled roles as inspectors/assessment team members. Hundreds of resources, including DOT employees and equipment, were brought into the region to assist with response coordination, mission assignment and completion." 
DOT members stepped out of their day-to-day roles to assist with storm response, he said. 
Like their union brothers and sisters in health care facilities and with State Fire, DOT members faced challenges on the ground and at home. 
"Due to travel bans and impossible travel, I have heard from members who couldn't get home for days," Uebelhoer said. "There were many without power for days. DOT employees, including dozens of PEF employees, once again stood up to the challenge, on a holiday weekend away from their families, to ensure life safety missions were identified and responded to. The NYSDOT and other agencies are here for the people of New York. Through storms, flooding and other natural disasters that arise." 
Union steps in  
President Wayne Spence was on the phone with commissioners at the Department of Corrections and Community Supervision (DOCCS), the Office of Mental Health (OMH) and the Office for People with Developmental Disabilities (OPWDD) in the days immediately following the storm. 
PEF moved quickly to help members impacted by the storm, contacting them via the text app Hustle to check in on their safety and sharing a list of resources, from trauma counseling, to insurance, to power outage safety tips, as well as activating the PEF Relief Fund. 
"Many of our members who were working and scheduled to go home Friday were stuck at their worksites and sheltered in place," he said. "Members were generous with their donations to the PEF Relief Fund and we are in the process of figuring out how best to distribute the money raised directly to impacted members."