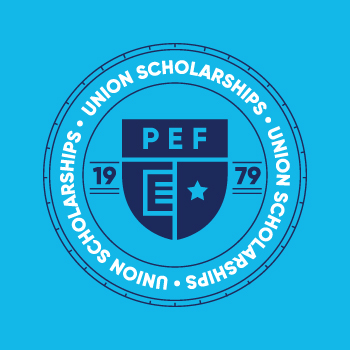 You can't escape news of the student loan debt incurred by millions of people across the country. The numbers are sobering, as the debt stands in the way of many facets of the American Dream, such as homebuying, financial stability, and saving for the future. 
In 2022-23, the average tuition and fees for full-time undergraduate students is $10,940 for public four-year in-state schools; $28,240 for public four-year out-of-state schools; and $39,400 for private nonprofit four-year schools, according to College Board's "Trends in College Pricing and Student Aid 2022" report. 
Through your PEF membership, your family may be eligible for scholarships to ease the financial burden of higher education. 
PEF scholarships 
PEF's statewide Joseph Scacalossi Scholarship has helped students since 1988, when it was founded as a tribute to a state Department of Labor member who helped form PEF and fought for the rights of his members in Manhattan. 
The program is merit-based and open only to dependents of PEF members, PEF retirees and deceased members. Applicants must be high school seniors or college freshmen. Each year, 10 students are awarded $1,000 annually for up to four years.  
The preliminary application is due March 17, 2023. It can be accessed online here. Upon verification, a final application will be mailed to students.  The final application is due April 28, 2023. 
The Jean DeBow Women in PEF Scholarship was created to honor the memory of former PEF Vice President Jean DeBow. There will be one scholarship award of $1,000, given annually at the PEF Convention, to an active female PEF member, who is pursuing an accredited post-secondary education in any field.  
Applications are due by May 1 of each year at PEF headquarters, addressed to the attention of the PEF Scholarship Committee. Click here for instructions and details. 
Scholarships are also sometimes offered by individual PEF regions and divisions.  
Contact your regional office or your council leader for information about divisional and/or regional scholarships and deadlines for applying. Click here for PEF regional office contact information. 
Union Plus scholarship 
Since 1991, the Union Plus Scholarship Program has awarded more than $5.2 million to students, assisting more than 3,600 families with higher education costs. 
Current and retired members of participating unions, their spouses and their dependent children are eligible for the scholarship. The union member must complete at least one year of continuous union membership by May 31 of the scholarship year. 
Scholarship awards range from $500 to $4,000 and are one-time cash awards. In 2022, 189 union members and union family members were awarded $200,000 in Union Plus Scholarships, ranging from $500 to $4,000. 
Emily Wenke, the daughter of PEF member Joanne Wenke, received a $550 Union Plus scholarship for 2022. 
The Union Plus scholarship is competitive, and applicants are evaluated according to academic ability, social awareness, financial need and appreciation of labor. A GPA of 3.0 or higher is recommended.  Applications must be received on or before noon Eastern Standard Time on January 31, 2023. 
Apply here. PEF is SEIU Local 4053.