April 28 is Workers Memorial Day, a day when we honor those who died or were injured on the job. In the 19th century, workplace hazards were not really studied and many suffered death or life-long injury from exposure to unsafe materials. 
One woman sought to change the narrative.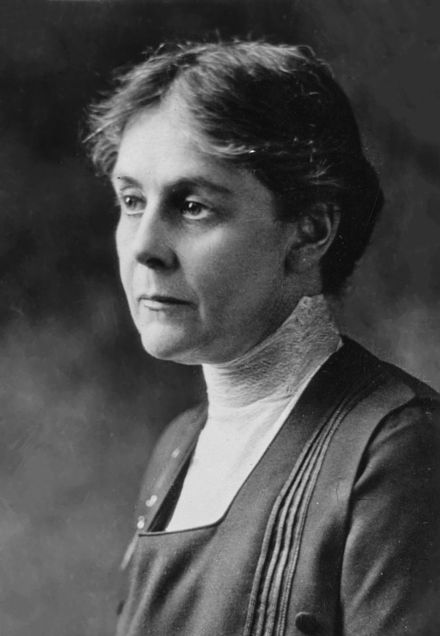 Dr. Alice Hamilton, the first woman appointed to the faculty at Harvard Medical School, was a pioneer in the field of occupational health, studying occupational illnesses, toxicology, and the dangerous effects of industrial metals and chemicals on the human body. 
Born in 1869 in New York City, Hamilton received her doctor of medicine degree in 1893 from the Michigan Medical School, interned at Minneapolis Hospital for Women and the New England Hospital for Women and Children, and then traveled overseas to study bacteriology and pathology in Munich and Leipzig, Germany. She completed her postgraduate studies at Johns Hopkins University Medical School in Baltimore, Md. 
"After accepting a teaching position at the Women's Medical School of Northwestern University in 1897, she moved into Jane Addams' Hull House in Chicago," according to the Centers for Disease Control's National Institute for Occupational Safety and Health website. "There she opened a well-baby clinic for poor families in the local settlement house neighborhood. As she acquainted herself with the families, she learned of their pains, strange deaths, lead palsy, 'wrist drop,' and of the high numbers of widowed women. Encouraged by the reformers of Hull House, she began to apply her medical knowledge to these social problems and thus began her scientific inquiry into occupational health for which she became known." 
"Industrial medicine," concerned with illnesses caused by certain jobs, was uncharted territory in scientific circles until the Industrial Revolution of the late 19th century. Factories, especially textile mills; mining operations; the mercury industry; the match industry – all were new and safety precautions were few. 
Some of Hamilton's best-known research highlighted phosphorus necrosis of the jaw, also known as "Phossy Jaw;" and hatters suffering from mental illness as a result of mercury poisoning. 
Phossy Jaw 
In the late 19th and early 20th centuries, the match industry used white phosphorous, and it soon became apparent the chemical was hurting workers. 
"The women who worked in the factories would often work without proper safeguards, leading to exposure in the form of vapor," according to History Daily. "Workers soon began complaining of toothaches and swelling of the gums, which eventually led to abscesses and a greenish-white glow in affected bones. The condition also caused serious brain damage, with removal of effected tissue being the only option to prevent death." 
Phossy jaw was horribly disfiguring and caused intense pain, enormous swelling in the face, and, in some cases, death. Some unfortunate victims lost their entire lower jawbones. In 1909, John Andrews investigated 15 match factories across the country and isolated 100 cases of the disease. Andrews led an unprecedented effort to lobby Congress to prohibit the use of white phosphorus in making matches. In 1912, it passed the Esch Act, which protected workers by placing a prohibitive tax on white phosphorus matches. 
Mercury Poisoning  
The term "mad as a hatter" has its roots in occupational health and Lewis Carroll's "Alice in Wonderland" features the "Mad Hatter," a nod to the slurred speech, tremors, irritability, shyness, depression and other neurological symptoms that resulted from workplace exposure to mercury in the hat-making business. 
"Society has made great progress in recognizing and controlling industrial hazards since Lewis Carroll's day," said John Howard, M.D., Director of the National Institute for Occupational Safety and Health (NIOSH) on the organization's website. "For example, nearly 70 years ago, on December 1, 1941, the U.S. Public Health Service ended mercury's use by hat manufacturers in 26 states through mutual agreements. The kinds of conditions that put hat-makers and other industrial workers at risk in 1865 are no longer tolerated. 
"The Hatter remains a cautionary figure, since exposures to mercury and other hazardous industrial substances can still occur in the workplace," he said. "Symptoms from chronic exposures to mercury, lead, and other neurotoxic substances, even at low levels, may be subtle in early stages. Sometimes, they may be mistaken for symptoms that can arise from other causes. Similar concerns exist about other adverse effects that are associated with exposures on the job. It is important to be vigilant about work-related illness, and to act decisively to protect workers' health." 
If you are concerned about a health issue at your New York State workplace, contact PEF's Health and Safety department at HealthandSafety@pef.org.