March 8, 2022 — The observation of Black History Month dates back to 1915, when Carter G. Woodson, now known as the "Father of Black History," created an organization called the Association for the Study of Negro Life and History. In 1926, Woodson initiated the first "Negro History Week" to celebrate and raise awareness of Black history and, in 1976, this week-long observance morphed into a month-long celebration and was renamed Black History Month.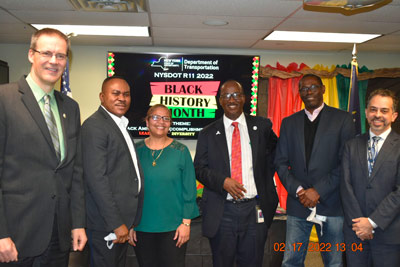 To commemorate the month, the New York State Department of Transportation in Region 11 hosted a two-day program, "Black American Accomplishments in NYSDOT," on Feb. 16 and 17. 
PEF members volunteered for the Region 11 Black History Month Committee, including Babatunde Tugbobo, Samantha Dreher, Brad Shilling, Juan Viera, Leoncio Romero and Geoffrey Rick.  
Region 11 also honored PEF members Judith Peter and Tugbobo as black leaders in the Region. 
Tugbobo, the regional planning and program manager for DOT Region 11, received his Doctor of Philosophy in Urban and Regional Planning – Transportation Planning from the University of KwaZulu-Natal Durban, South Africa. He also holds a Master of Science in Transportation Studies and two postgraduate diplomas. 
Tugbobo joined DOT in Region 2's traffic unit in 2008 as a transportation analyst. He transitioned to Region 11 in 2009. Prior to the DOT, he worked as a job opportunity specialist for the New York City Human Resources Administration and held various positions at urban planning private consulting firms in Nigeria. 
Judith Peter began her DOT career 25 years ago, working the last seven years in the Joint Transportation Management Center where, under her direction, the center works closely with the New York Police Department and the New York City DOT requesting traffic enforcement agents, managing the HELP program, reporting emergencies and coordinating "make-it-safe" repairs. 
She serves as the regional emergency manager and has been heavily involved in COVID-19 response. Peter coordinates college recruiting efforts in Regions 10 and 11, manages the mentor/mentee program for Region 11, heads the planning committee for the next Bring Your Future to Work Day and participates in numerous regional committees. 
She holds a bachelor's degree in civil engineering from the Pratt Institute and a master's degree in transportation engineering from City College of New York. 
Quoting Congresswoman Yvette Clarke, the committee stated: "We must never forget that Black History is American History. The achievements of African Americans have contributed to our nation's greatness."