March 9, 2022 — Never has the spotlight shone so brightly on the health care profession than during the COVID-19 pandemic. That's why now is the perfect time for PEF to ride the wave and influence legislation to introduce hazard pay bonuses, improve nursing recruitment and retention, revamp the Tier 6 pension plan, subsidize SUNY hospitals and address toxic workplaces.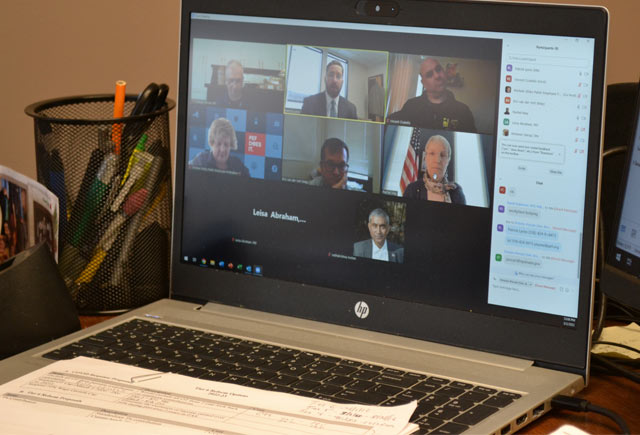 PEF nurses took to Zoom on March 2 to lobby for these initiatives and more. 
Participating legislators or their staff included Assemblyman Andrew Hevesi (AD28), Assemblywoman Aileen Gunther (AD100), Assemblyman Tom Abinanti (AD92), Assemblyman Jeff Dinowitz (AD81), Assemblyman Richard Gottfried (AD75), Assemblywoman Mathylde Frontus (AD46), Assemblyman John McDonald (AD108), Sen. John Mannion (AD50), Sen. Karines Reyes (AD87), Sen. Samra Brouk (SD55), Sen. Rachel May (SD53), Sen. Sean Ryan (SD60), Sen. Jim Tedisco (SD49), Sen. Jamaal Bailey (SD36), Sen. Phil Boyle (SD4), Sen. John Brooks (SD8) and Sen. Todd Kaminsky (SD9). 
Hazard pay, reduce contract nurses 
At the top of the list of budget priorities is the Healthcare Workforce Bonus proposed by Gov. Kathy Hochul, providing up to $3,000 for employees earning less than $125,000. While the proposal includes all state agencies, private and public sector hospitals, EMS, home care and hospices professionals, PEF maintains it needs further amending. 
"We feel we need to smooth out some of the loose ends in the language," said PEF Legislative Director Patrick Lyons. "It's important that we recognize all the heroes – all essential state employees including those charged with testing, contact tracing, sample work – people who exposed themselves to COVID in service to the state. We'd like to see this expanded and we really want to stress the importance of parity with private providers." 
Vincent Cicatello, a PEF nurse at Buffalo Psychiatric Center, shared with legislators that PEF members face overwhelming workloads and schedules, and a bonus would be a morale boost. 
"Many of our members have worked while sick throughout the whole pandemic," he said. "Worked long, extended hours. Are worn down and feel defeated. A lot of them are saying, 'What about us?' I think this would do a lot of good for our members to get this extra bonus." 
A similar story plays out at Roswell Park. "We have members who worked 21, even 28, days in a row because of the pandemic," said Michele Silsby, a senior case manager and PEF's Region 1 Coordinator. "Our patients are all critically ill, so you can only imagine how exhausted our nurses are, not only physically but mentally as well." 
Legislators were supportive of hazard pay. 
"We always want to hear what you have to say," said Sen. Mannion. "We don't make decisions without PEF's voice in it. We handled things so well during the pandemic because we have competent, well-trained, supported employees out there. New York state is the gold standard when it comes to these professions." 
"I'm in favor of expanding the (hazardous pay) bonus to effect more titles," said Assemblyman Abinanti.  
The state's solution to staffing woes has traditionally been to bring in contract nurses to fill gaps and assist overtaxed full-time staff. It's a quick fix, not a solution, PEF members argue. Contract nurses may not have the necessary skills, can't be mandated to work overtime and are paid exponentially higher, among other issues. 
"The fewer contract nurses, the better," said Silsby. "You want the best nurse at your bedside. When you have contract nurses floating in and out, you really do put your patients and your own license at risk. The error rate is higher and there is a lack of patient satisfaction." 
Some contract nurses are woefully unprepared for the jobs. Cicatello said some of the contract nurses brought into Buffalo Psych Center won't leave the nurses' station.  
"They are terrified of the psychiatric patients," he said. "They are just not experienced in dealing with them. It's not effective nursing. How are these patients going to recover?" 
The pay difference is staggering and a waste of taxpayer dollars when the state could spend that money on recruiting and retaining permanent staff. 
"It's just not cost effective," said PEF Vice President Randi DiAntonio. "You are bringing in people who are making significantly more money than the people they are working next to. It's disrespectful." 
"While state nurses need and want help, bringing in agency and travel nurses only creates deep resentment among existing staff," said SUNY Stony Brook nurse Nora Higgins, who is also PEF's Region 12 Coordinator. "The agency and travel nurses are paid up to four times as much as the state nurses who start at salary grade 14 and may advance to a grade 16." 
Contract nurses even outnumber full-time staff at some locations. 
"Where I work at Rochester Psychiatric Center, 60 percent of the nurses are agency nurses (not state employees)," said PEF nurse Bradley Jonas. "We have just 17 state nurses left.  The rest are all agency nurses. It's a Band-Aid on a much bigger problem. I've only worked for the state for 2.5 years and I've seen only 23 or 24 hires. I've seen 25 to 30 walk out the door." 
Legislators and their representatives were supportive and attentive to PEF's priorities. 
"Our fight should be that we should not be relying on contract nurses," said Assemblywoman Reyes. "These nurses are making more an hour than nurses who have been there for years." 
"We are going to do everything we possibly can for you," said Sen. Boyle. 
Tier 6 reform and loan repayment incentive 
State employment used to be an avenue to a secure and dignified retirement. The implementation of the Tier 6 pension plan changed all that. 
"It's important to recognize state agencies, in regard to nurses in particular, are very difficult to staff," DiAntonio said. "The pay is less. People tend to stay for the health benefits and the pension. Now we see a lot of people coming in to get experience and leaving for the private sector to increase their wages." 
PEF advocates for revising Tier 6 pension structure to mirror Tier 4 levels. 
"No employer can expect workers to wait 10 years before earning benefits and expect to keep people," Lyons said. "The state of New York is simply unable to compete with the private sector. Sensible Tier 6 reform will provide a significant attraction and retention incentive so the state can meet its workforce needs over the short and long-term." 
PEF proposes modifying Tier 6 to reduce the vesting from 10 years to 5 years, reduce the amount of employee contribution from 6 percent to 3 percent, and base Final Average Salary on the highest paid three years, not the highest paid five.  
"Last year, state workers logged 19 million hours of overtime," Lyons said. When the comptroller looks back at salaries and adjusts employee contributions, the union maintains that overtime should be recognized in pension wage calculations, but not count against employees when calculating contributions. 
"We are losing our senior nurses, and the new nurses are Tier 6 and don't want to stay," said Mary Margaret Krukonis, a PEF nurse at Mohawk Psychiatric Center. "I came in at Tier 4.  I would not come to work for the state today at Tier 6." 
In addition to hazard pay and pension reform, the union supports the Nurse Loan Repayment Program to address recruitment and retention. 
The program, as proposed, would only apply to registered nurses. PEF advocates for expanding the bill to include licensed professional nurses, nurse practitioners and clinical nurse specialists, as well as clarifying "underserved area" to include all state agencies. 
Subsidize SUNY hospitals, oppose shifting license oversight from DOE to DOH 
SUNY hospitals – Downstate, Upstate and Stony Brook – offer top patient care and led the way throughout the COVID-19 pandemic in their communities. While the budget does include funding for the hospitals, PEF maintains it's not enough to address shortfalls caused by the pandemic. 
"We are asking for $100 million to shore up the SUNY hospital system," said Lyons. "These institutions train the most minority doctors and nurses in the state. They are nationally recognized and are the only teaching hospitals in New York. We have a severe workforce shortage; this could help us meet that demand." 
There must be changes to make the state competitive as an employer. 
"All our health facilities are demoralized," said DiAntonio. "The state is paying tons of money to hire contract nurses, travel nurses, but they are not looking internally to support the nurses they already have. They are no longer a competitive employer." 
In the Health and Mental Health budget, Part C, the governor proposes shifting oversight and licensure from the Department of Education to the Department of Health for all health care professionals, including nurses, psychiatrists, physical therapists and mental health professionals, among others. 
PEF opposes this legislation. 
"Our concern is about direct gubernatorial control over the healthcare professions," Lyons said. "The DOH commissioner is appointed by the Governor while the State Education Department works underneath the Board of Regents. We don't want politics infused into these professions. We feel like, if it's not broke, why are we trying to fix it?" 
Confront toxic workplace 
A culture of disrespect at worksites across the state also needs to be addressed, PEF members said. 
In one Office of Mental Health facility, a member of management yelled at nurses, kicked a Sharps container across the floor and was allegedly heard muttering, "I love watching them scurry when I walk on the floor." In another, a doctor got right up in a nurse's face to scream at her, spraying spit on her face. She filed a complaint, but the final decision was to leave the doctor where he was and move her. 
"People shouldn't have to endure such abuse," Higgins said. 
Legislators were appalled at the treatment. 
"You guys have a staffing problem. It's definitely a policy issue," said Assemblywoman Reyes, a nurse herself. "You guys have a very toxic culture. That's just unacceptable." 
"It's awful to hear," said Sen. Mannion. "I hate hearing the stories, it shouldn't be happening. You know you have a lot of allies in my conference, and we are going to continue making sure your members aren't forgotten in there." 
PEF supports legislation to promote building healthy worksites and holding employers accountable. 
"Workplace bullying is real and has real consequences for workers and the people that they service," Lyons said. "Employees, especially nurses and other health care employees, should not be forced to endure workplace bullying, abuse or harassment or the stress, anxiety, humiliation or depression that stem from such actions." 
The New York State Legislature must finalize the state budget by the end of March.  You can read a full breakdown of PEF's budget priorities here. And if you haven't participated yet, you can write your elected lawmakers in support of PEF's priorities here.