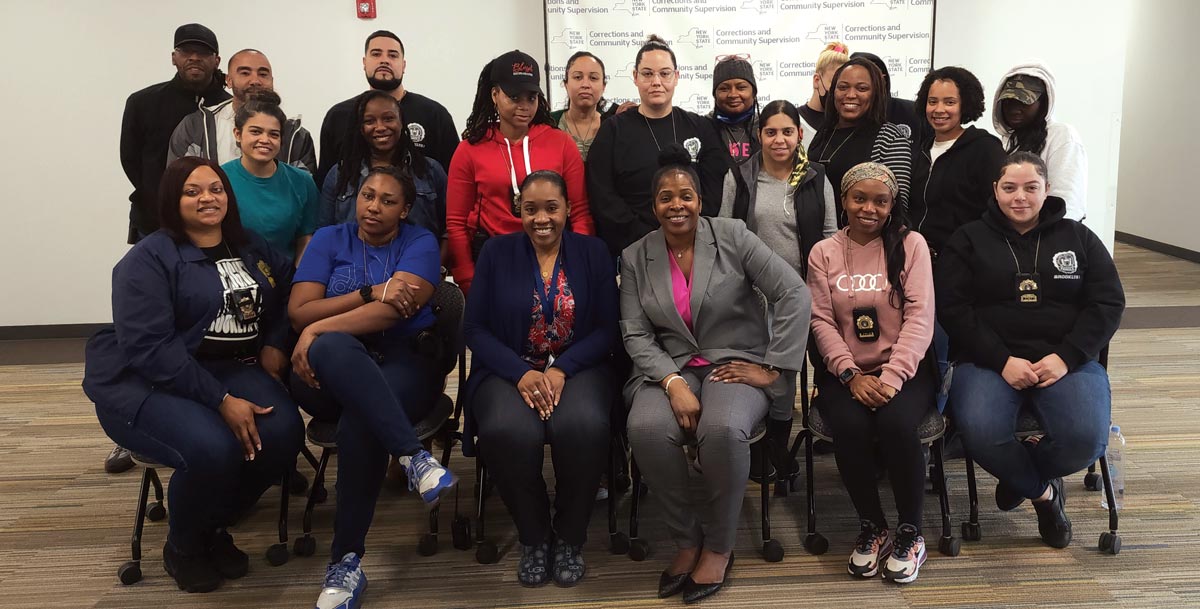 March 9, 2022 — Illegal guns and other weapons are part of a growing problem of violent crime in communities nationwide. Getting them off the streets has created a sense of pride and even a friendly rivalry between two state parole offices in Brooklyn.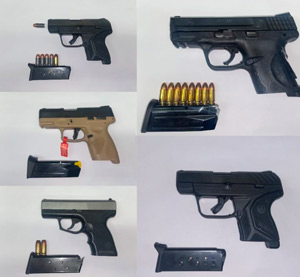 Guns, other weapons, ammunition, drugs, fraudulent credit cards, fake IDs and machines used by scammers are all deemed criminal contraband that parolees are not allowed to have, and when parole officers have reason to think contraband may be present, they go out in teams of eight officers to conduct thorough "safety searches" for it.
Denise Granum, bureau chief of parole office Brooklyn 1, said the 22 officers at that station — who supervise approximately 1,100 parolees — have become so good at getting contraband off the streets that they have earned the nickname "Gun Snatchers." In fact, she said, the Brooklyn 1 officers are now rivaling the Brooklyn 4 officers, where she was formerly the bureau chief. The Brooklyn 4 group earned the nickname "Bumble Bees" for their success in finding guns and contraband.
Granum said she was preparing to present 50 letters of commendation to the Brooklyn 1 officers in early March for their outstanding efforts.
"We got 13 guns just since January and four more last Friday. They found a gun that was kept on a shoe rack," Granum said. "The parolee could just grab his shoes and his gun whenever he wanted to go out."
In a very different case, the officers found a safe that contained five guns including high powered rifles and extended ammo clips with 50 rounds, which are meant for military use. They also found two additional guns and substantial cash on that search. A stolen US Postal Service master key was found that could be used to rob personal and business post office boxes.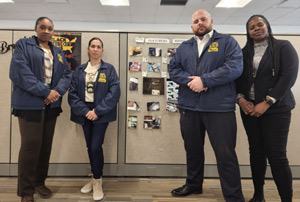 "We believe the parolee was posing as a postal worker," said Granum.
"It's alarming because the parolees sometimes have more powerful weapons than our officers have. We've also found a 3-foot machete, brass knuckles, and big knives," the bureau chief said.
Gang activity is a major factor in leading parolees into violating the terms of their parole and commiting crimes," Granum said.
"We would typically find 13 to 14 guns in a year, but we just brought in 15 in 43 days and 10 of those were in three days."
The Brooklyn 1 officers, who are predominantly female, are excited to be able to do this important work, their chief said. "When the word goes out that we are putting together a safety search team, they all want to be on it."
Brooklyn 1 has a code word they use when they spot a gun, and now they have a teddy bear with a T-shirt that has that word at the station. The bear is a symbol of their success and Granum said she also has decorated a wall at the station with awards and signs of their prowess as "Gun Snatchers."
"We can't let the parolees take over. We must make sure we maintain discipline. We're going to do what we have to do to keep people safe."

Want to amend "Less is More?"
PEF is calling for 500 additional parole officers and enhanced services to help parolees.