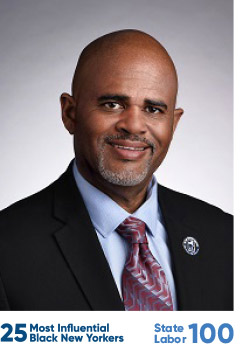 PEF President Wayne Spence's unflagging advocacy for the union's members throughout the COVID-19 pandemic have attracted praise and attention from a variety of news organizations already this year.
City And State, Politics NY and the NY Christian Times all included Spence in lists of important leaders in the state, with some of the lists picked up by TV and other news organizations throughout the state.
Spence was among the top leaders recognized in the February publication by City and State of its 2022 New York State Labor Power 100, recognizing those who are waging statewide, multi-state and national battles on behalf of the state's workers.
Acknowledging that the long-term effects of the pandemic on workers is not yet fully clear, the online publication adds, "What is clear is that the national mood has shifted in favor of workers. Support for labor unions has risen to levels not seen in decades." It praised Spence for leading PEF's efforts to get improved working conditions and compensation for New York's nurses and health care heroes, and for making that campaign one of the union's top priorities.
In the February issue of New York Christian Times, Spence is seen as among "New York's 25 Most Influential Black New Yorkers." It states, "He is known as a leader who demands that the union and state follow through on mandates, especially for member health and safety issues. Under his leadership the union negotiated two successful contracts that included across-the-board raises and no givebacks for the membership." It highlights Spence's "outspoken advocacy for state employees who were deprived of their guaranteed right to be paid for quarantine leave," and his negotiation of an "extension of an agreement for free mandatory COVID testing of all PEF-represented employees at SUNY state-operated colleges, universities and hospitals."
On March 16, Spence's work on behalf of PEF members was publicly recognized again. This time it was Politics NY that spotlighted him and the union's members in its list of "Labor Power Players." The publication noted that PEF represents state research scientists who helped develop testing for the COVID-19 virus.
The publication cited Spence's goals for the coming year as informed by the hardships of the past few years – "preparing for the eventuality of new COVID variants and securing PPE and other health and safety resources for his members."