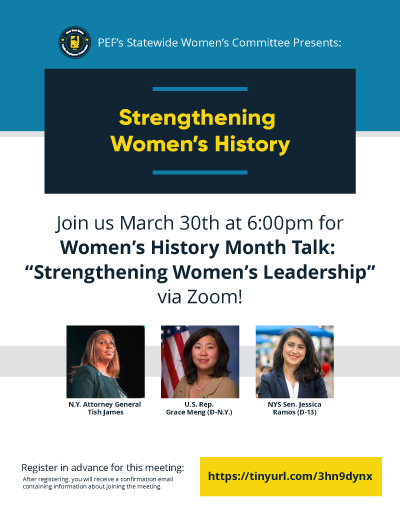 "Strengthening Women's Leadership" was the subject of the final Women's History Month program offered by the PEF Statewide Women's Committee March 30 via Zoom, and it featured state Attorney General Letitia James and Congresswoman Grace Meng, who represents New York's 6th Congressional District in Queens.  State Sen. Jessica Ramos, who was scheduled to join them, was involved in state budget negotiations and could not attend.
Also participating were PEF President Wayne Spence, Vice Presidents Sharon DeSilva, Darlene Williams and Randi DiAntonio, and Women's Committee Chair Scarlett Ahmed.
James and Meng talked about the many obstacles and challenges they have encountered and overcome to reach their current positions of authority and power, and what they have learned about advancing women's perspectives and achieving balance in the halls of power.
James is not only the first woman of color to be elected state attorney general, an office she has held since 2019, she is also the first woman of color to hold any statewide office in New York.
"I've often been the 'only' in the room," James said. She recalled that when she was a public defender, judges and court staff often failed to recognize that she was an attorney and assumed she was possibly the mother of a defendant.
Meng is the first and only Asian American member of Congress from New York state.  She previously served in the state Assembly where, "I was the only Asian in the Legislature, so I couldn't be part of an Asian caucus.  But the Black, Puerto-Rican and Hispanic Caucus invited me to join it."
Both women said it is often a challenge for them to be heard and respected by the men with whom they work, and they also must overcome racial and cultural differences.
"We've got to speak loud on behalf of our constituents. Men tell me that I speak too loud, but sometimes that's the only way to be heard when they are controlling the debate," James said.  She recalled a woman at a meeting who kept apologizing for interrupting the men so she could get the chance to make a point.  "She was really getting on my nerves and finally I told her to stop apologizing, and just demand her place in the debate.
"As women, we are still fighting for equal pay and equal rights," James said.
PEF Vice President Randi DiAntonio said that even in state service the job titles such as nurse that are predominantly held by women are often paid less than the titles predominantly held by men.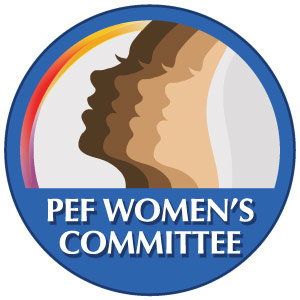 "As a woman you will face challenges that no man will ever face," James said.  "Women would not have made the advances that we have made if it were not for (the support of) organized labor."
She and Meng agreed that it is important to speak up for their weakest and most powerless constituents.
Meng, who is now serving her fifth two-year term in the U.S House of Representatives, said that at first she had to overcome self-doubts about "belonging" in the white-male dominated halls of Congress.
"Men are over-represented in many halls of power," Meng said.
"You never know what you say or do that might make a difference for someone," Meng said.  "You are changing the standard of what leadership looks like."
James, who previously served on the New York City Council, noted that women now make up a majority of the council and a woman is council president.
Meng said that her strong desire to speak up for the people she represents helped her overcome her doubts and fears about being in Congress.  For example, she said she has spoken out about the need for women in homeless shelters to get feminine hygiene products, such as pads and tampons.
"A seventh grade girl wrote to me and told me about this," Meng said.  So, she brought that important, but overlooked, concern to her fellow lawmakers.  "I think the men are very tired of hearing me talk about menstrual periods, but we are literally there to speak for people who have no voice."
James wholeheartedly agreed, saying, "I was taught to stand up for those who are locked out of power."
James said that she has allowed the employees at the state Law Department to work remotely and they just finally returned to their offices for the first time on April 4, but she will continue to offer them hybrid and flexible schedule options to help those who have continuing child and other dependent-care responsibilities at home.
"We have lots of lawyers working in our department, but I feel it is important to apply the same standards (and options) for administrative staff," James said.
Meng commended her.  "As government continues to stall on (passing a law providing) full-pay family leave, that's really important for women and those who must care for dependents, especially women of color who are really affected by this.  Moms can't go back to work if there's no one to care for their children."
Returning to the pre-pandemic status quo just isn't good enough, James said.
"We can't return to normal.  We must return to a fairer workplace.  We must provide for childcare," James said.
DiAntonio recalled that daycare used to be offered on site at many state campuses and it was "such an advantage, especially for staff who had to work extra shifts."
Funding for those worksite child daycare centers was provided in the PS&T contracts in PEF's early years, but the demand diminished as the state began closing the psychiatric and developmental centers and moving to community-based services.
The speakers and PEF leaders and members in attendance all agreed that it is important to help advance women and achieve more balance in creating public policy.
Meng cited two ways to do that:  Mentoring women, especially young women who are trying to advance; and being visible and public as female leaders.
"When girls see us in professional or leadership positions, it opens their minds to the possibilities for them," Meng said.
"We are the first, but we cannot be the last," James said.  "We must love, embrace and encourage women."
The committee ended the program with a music video of women dancing together and singing the 1979 hit song by Sister Sledge, "We Are Family!"