April 12, 2022 — Criminal justice and public safety weighed heavily on the minds of New Yorkers attending the 2022 New York State Association of Black, Puerto Rican, Hispanic & Asian Legislators annual conference   April 8-10 in Albany.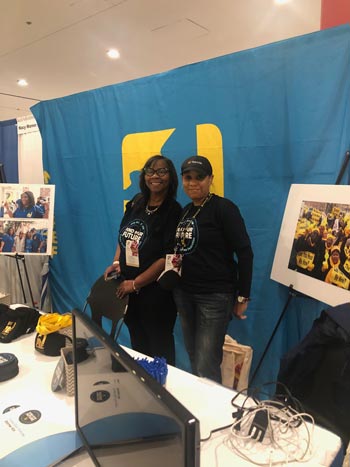 PEF President Wayne Spence was among five panelists at a popular workshop April 9 on "The Impact of Restorative Justice in Public Safety, which was sponsored by state Sen. Leroy Comrie and the National Organization of Black Law Enforcement Executives (NOBLE).  The panelists shared their insights and observations about how New York City's new mayor and how his administration should deal with the uptick in crime while balancing the needs for reform within the criminal justice system and the city's Department of Corrections.    
In addition to Spence, the panelists included Kings County (Brooklyn) District Attorney Eric Gonzalez, New York Police Department Transportation Chief Kim Royster, Suffolk County Police Commissioner Rodney Harrison, and Elias Husamudeen, former president of the New York City Corrections Officers Benevolent Association.  The workshop was moderated by Geoffrey Eaton, president of the Mid-Manhattan Branch of the NAACP. 
Spence and Husamudeen stressed the importance of supporting the public employees who provide parole and corrections services.   
Spence said he recently heard someone suggest that parole duties could be privatized and left to contractors.  That is a totally flawed and irresponsible idea, he said.  "It's utter nonsense.  There is no vacation for a parole officer.  Your responsibility never ends, even when you are on vacation.  There is always work to be done." 
Spence said that when he became a parole officer staffing levels were high enough that the officer could accompany a parolee on a job search and talk to prospective employers about tax breaks and other advantages to help parolees become self-supporting and law-abiding citizens. 
"We had 1,200 parole officers then.  Now we have fewer than 800," Spence said.  "How about funding us and letting us do our jobs?"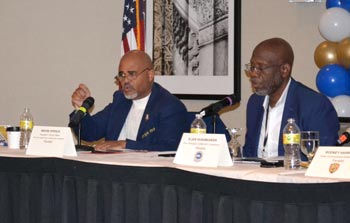 "We've watched policies pack a lot of jails, and now we're going to unpack jails," Spence said.  Concern for reducing incarceration can go too far and completely overlook how it affects the public.  "When somebody's kid gets killed, don't tell me the killer gets a pass!"  His passion on this point drew a strong reaction from the audience. 
"There is no criminal justice reform if you don't include corrections, parole and probation," Husamudeen said.  "Reform should be done inside detention centers."  New York City spends approximately 87 percent of its corrections budget on staffing, and that doesn't leave much for programs to help prisoners learn skills to turn their lives around.  Today, you must have at least an associate degree to be hired as a corrections officer in New York City, he said, and 90 percent of the correctional officers have degrees of some kind.  They could be sharing skills and teaching prisoners the way it was done several decades ago. 
"In 2020, the city Corrections Department paid $25 million to not-for-profits (for services).  No one held them accountable," Husamudeen said.  "The recidivism rate is 43 percent." 
Gonzalez said it's important to be careful when partnering with community-based, not-for-profit organizations. The job demands leaders who have demonstrated the necessary skills and experience to support communities and guide residents away from gang violence and other criminal behavior.  A big challenge in keeping the public safe, he said, is finding ways to return people who have been convicted of crimes to their communities "in a safe way." 
The DA agreed with Husamudeen.  "We know community-based organizations will play a role as we get healthier and crime goes down, but we have to have accountability for the investments when money gets spent, but nothing gets done," said Gonzalez. 
Royster said structure, transparency and accountability are all important when trying to break the pattern of people being repeatedly victimized. 
"We must have structure (in organizing services) and make sure the right people are working on the right issues.  We need to focus resources on the right people and they have to know what's going on," Royster said. 
"Many people are looking for different solutions besides incarceration," Gonzalez said.  He added that many of the individuals who are convicted of crimes also have mental health and addiction issues that affect their behavior in the community. 
Royster said, "We in the police department need to recognize how people feel and make sure it's equitable.  We need to look at people as human beings.  We need to be transparent and work together with other agencies and groups.  We must make sure to provide a service to those who are underserved."  Ultimately, she said, "We have to make sure justice is served."  
Harrison commented on the need to "hold each level accountable."  He said it's important to see "what kind of assistance and help are we getting them, can we modify our interactions to prevent crime and avoid arrests and putting people before a judge?  Every layer of (the criminal justice continuum) "needs to look at what we can do better." 
Members of the audience shared their concerns, ideas and questions.  Cynthia Tucker said it is important to do more to give children the skills, knowledge and values they will need as adults.  "We need to educate our children in school so they won't go to jail," she said. 
When an audience member called for police and public services to protect people and "lift them up, instead of over-policing," Royster said she believes, "We must reform internally, (in order) to reform externally."