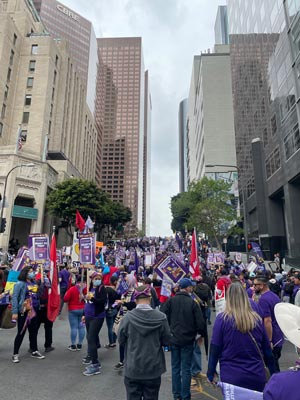 April 12, 2022 — Solidarity. It's a word you hear often in the organized labor movement. And for good reason. The fight for a fair contract, good benefits and safe workplaces is a universal one.  So when PEF President Wayne Spence was asked by the Public Services Division of SEIU to send a PEF team to Los Angeles to help SEIU Local 721 organize members for a march on city hall, he answered the call.  
Region 2 coordinator Andrew Puleo, Council Leader Ron O'Bryan and PEF Communications Director Rob Merrill joined about 20 other SEIU affiliate members from around the country to help with the so-called "escalation event."   
Local 721 represents 95,000 public sector employees in L.A. county, many of them with titles familiar to PEF members – from nurses and engineers to law enforcement and judges. Their contract with the county expired on March 31, 2022, and they are negotiating for a new three-year deal. 
"Our message is simple: Respect us, protect us, pay us!" lead Local 721 organizer Gilda Alvarez told a tent-full of activists the day before the march. "Politicians love to thank us, but we're still understaffed, underpaid. Every day the county privatizes good union jobs. It hurts our communities and the people we serve." 
Sound familiar? 
The campaign resonated with President Spence because of its focus on privatization, one of the principle targets of PEF's ongoing "Fund Our Future" campaign.  
"The push to privatize public jobs is definitely not limited to New York," said Spence. "Our fight is their fight and the more we can elevate our anti-privatization message, the more politicians will hear it and the more likely we'll impact positive changes."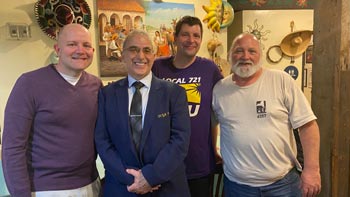 Puleo, O'Bryan and Merrill were put right to work after a day of cross-country travel.  On day one they knocked on more than 30 doors in Long Beach, Calif., a working-class suburb about 10 miles outside downtown L.A.  They successfully engaged with members about half of the time, leaving campaign literature on the doorstep of union members who weren't home.   
According to the MiniVAN mobile canvassing app used by Local 721, from March 21-30, 2022, the full escalation team reached out to about 3,000 bargaining unit members either via direct door knocking or phone banking. Of those 3,000 contacts, about 600 were classified as "successful," meaning an organizer was able to talk to the member.  And of those 600, 200 of them agreed to participate in the March 31 rally, a 33% positive rate.  
The morning of day two for Team PEF was spent at Local 721 headquarters on Wilshire Blvd., hearing from the union's statewide officers about their contract fight and helping build picket signs for the marchers. Local 721 President David Green provided the crowd of about 300 people with an update on the negotiations. The county's latest offer of "3, 3 and 3" – or 3% annual raises for three years – was immediately rejected by the union because it doesn't keep pace with the increased cost of living brought on by the pandemic. 
"Three percent won't pay for the extra cost of gas it takes public workers to get to their jobs," said Green, noting for the out-of-staters in the audience that the price at L.A. pumps now exceeds $6 per gallon. "We countered '3-3-3' with no number, but asked them to index the contract to inflation." 
The afternoon of March 30 was devoted to one final round of phone banking, reconfirming attendance at the March 31 rally with members who already indicated they would attend either in a phone call or a digital Hustle.  
March 31 dawned cool and overcast in L.A. as SEIU set up their stage and tents near Grand Park downtown.  Buses began arriving about 9:30 in the morning and the street was soon filled with thousands of fired up members, ready to take to the streets.  As a DJ blared high-energy tunes and members danced between speakers, they heard from Local 721 officers, as well as SEIU President Mary Kay Henry via video message and SEIU Executive Vice President Heather Conroy on stage. Long-handled signs reading "Respect Us, Pay Us, Protect Us!" were handed out, and large banners were unfurled that read "Ready to Fight! Ready to Strike!" Some members agreed to wear backpacks that supported 10' tall vertical banners sporting the campaign's slogan, the better to be captured by the news helicopters and drones buzzing overhead.  When the march stepped off at about 11:30, organizers estimated 3,000 members were in attendance, particularly impressive since it was a Thursday and they had to tap their own accruals if they were scheduled to work.  Members made a 2-mile trek through downtown L.A., forcing authorities to temporarily close the L.A. Civic Center as the crowd walked by, and eventually finishing outside the County Board of Supervisors, which is the management party in their contract negotiations. 
The rally and march concluded phase two of the escalation campaign, which will ramp up to phase three if no contract is reached. As of early April, the L.A. County Board of Supervisors requested additional time to seek authorization before submitting a counter proposal, surely a good sign in a long negotiation.  California does not have a version of New York's Taylor Law, so unionized employees do have the right to strike.  It was a word mentioned often by speakers at the rally. "We don't want to strike, but we're ready!" Local 721 President Green told the marchers. 
PEF members who want to know how it all turns out can keep an eye on the SEIU Local 721 website.