The state Legislature was in session Tuesday, May 10, but at least 16 lawmakers ducked out of meetings at lunchtime to join PEF nurses at a press conference outside the Capitol.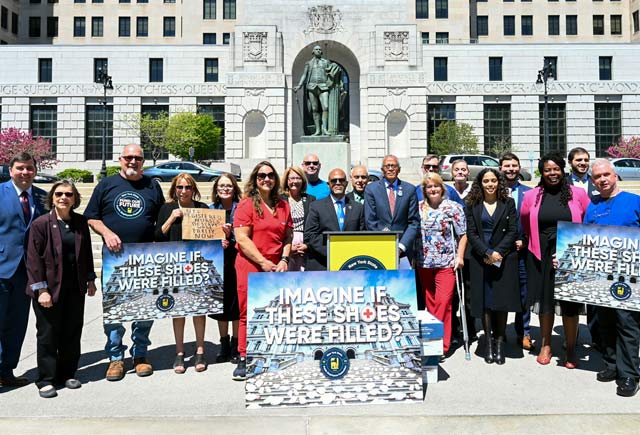 "Our nurses made a strong case for better staffing and better pay to meet a nursing shortage in state health care facilities that has reached crisis proportions," said PEF President Wayne Spence.  "It was gratifying to see so many state legislators make the time to join us and pledge their support.  We profoundly hope it will yield real legislation to address these issues and that the governor will sign those bills."
Just a few weeks are left in this legislative session, which is scheduled to end in mid-June.  That's why PEF brought this issue to the Capitol during National Nurses Week that ends May 12.
The biggest problem state nurses face is the staffing shortage and the pressure it puts on them to work mandatory overtime.  A major reason for the lack of nurses is the poor pay they receive from the state, which hinders both recruitment and retention. Daily, nurses employed by New York State work alongside private agency, or "traveling nurses," but their pay is vastly different.
"Traveling nurses earn tens of thousands of dollars more than state nurses they are hired to assist because of short staffing," Spence said. "How is that fair? I've heard from PEF nurses who have received job offers from nursing agencies willing to pay them six figures a year to be a traveling nurse."
John Taverne, a nurse at Mohawk Correctional Facility in Rome, N.Y., said it puts a lot of stress on state nurses with decades of service to learn that traveling nurses with only a few years on the job may earn just as much money as they are.
State Assembly Health Committee Chair Richard Gottfried said he was shocked to find that the law he helped pass barring mandatory overtime for state nurses in non-emergency situations has had little effect. "The complaints of violations are coming from the nurses who work for the government!" Gottfried said.  "That is unacceptable.  This is a crisis and the time to act is now!"
State Assembly Labor Committee Chair Latoya Joyner said she has already taken action.  She has a bill in the Assembly now — S.8063/A.8874 – that would limit the state's ability to mandate nurses to work "emergency" overtime.  That bill was introduced in the state Senate by Jessica Ramos, who chairs the Labor Committee in that chamber.
State Sen. Robert Jackson, a former PEF member and former PEF staff member, and Assembly Mental Health Committee Chair Aileen Gunther have also introduced bill S.01997-A/A.286, which adds penalties for employers who mandate overtime in violation of the existing law that Gottfried referenced.
"Nurses are the backbone of our health care system, but they are tired!" Jackson declared at the press conference.  "The state's non-competitive salaries for nurses are a reason why we have a recruitment problem and why the nurses we do have are mandated to work extra shifts.  We should never be at a point where nurses are mandated to work overtime.  Enough is enough!"
Nurse Carolyn Cole, chair of the PEF Nursing Committee, said she has worked 31 years for what is currently the state Office for People with Developmental Disabilities, and has found it necessary to work a second job as a hospice nurse for 20 years.  The average age of state nurses is 48 to 55 years, she said, and they will soon retire.
"Who is going to fill our shoes?" Cole asked.