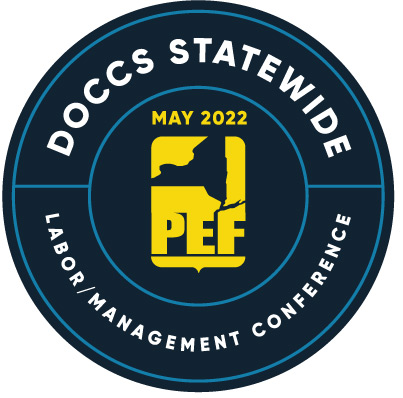 May 17, 2022 — After a two-year hiatus due to COVID, President Wayne Spence, Statewide Labor Management Chair Steve Drake, and the Statewide Labor Management Team were eager to host the annual Department of Corrections and Community Supervision (DOCCS) Labor Management Conference, held May 11-13 in Saratoga.
The conference began with several training sessions in various areas, including Health & Safety Issues, Student Loan Forgiveness, Divisions Finance, Workers Compensation, Parole Contract Insurance Overview and Member Engagement.
The highlight of the conference was the three-hour open forum discussion. During the forum, attendees had the opportunity to direct questions to management, including Acting DOCCS Commissioner Anthony Annucci, Executive Deputy Commissioner (EDC) Daniel Martuscello III, as well as Deputy Commissioners, Assistant and Associate Commissioners representing various areas.
Acting Commissioner Annucci opened the forum, speaking about the continuing priority of safety and security, stating "we must all feel comfortable and safe when we come to work." He acknowledged that is an increasingly difficult task, taking into consideration the dangerous population of incarcerated individuals, the COVID pandemic, and numerous legislative changes that have substantially affected the department. Annucci stressed the importance of management and staff working together to create an environment that is conducive to safety while maintaining productivity.
Conference attendees asked important questions regarding issues and concerns voiced by members from facilities and community supervision offices across the state.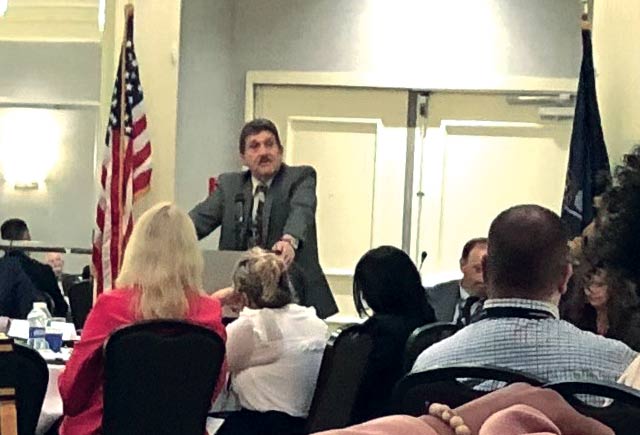 Darrell Robertson (Wallkill Correctional Facility) stated that incarcerated individuals often come to programs after receiving medication, including Medical Assisted Treatment (MAT). These individuals come to vocational programs and use tools, equipment and other machines, even though occasionally, Robertson said, they are "out of it." EDC Maruscello stated that if any staff member notices an incarcerated individual exhibiting unusual or concerning behavior, staff should immediately notify an officer in the area so the individual can be removed from the program. Staff should also notify their supervisor, as well as Medical in case an adjustment in their medication is needed.
John Taverne (Walsh Regional Medical Unit) and Donald Yates (Attica Correctional Facility) spoke about the strain put on nursing staff during a facility incident such as a lockdown, Correction Emergency Response Team (CERT) deployment, or an extraordinary number of Unusual Incidents (UIs). They suggested implementation of a protocol to allow for deployment of additional nursing staff in the event of a serious incident or emergency, if the impacted facility does not have adequate staff. Taverne said the issue had been discussed earlier in the day during the Nurses Subcommittee meeting. EDC Martuscello agreed that administration had a productive discussion with the Nurses Subcommittee regarding the issue. He noted there have been two recent CERT deployments, at Cape Vincent and Attica, and acknowledged nursing staff is extremely busy providing medical care not only to incarcerated individuals, but also to facility staff and CERT members. He reported the department is working to resolve the issue so that staffing can be increased for a large number of UIs and injuries if indicated.
Steven Feinstein (Bedford Hills Correctional Facility) requested clarification on scheduling in regard to DOCCS nurses and agency nurses, and asked if it is acceptable to use nursing staff shortages to give agency nurses preferred schedules. EDC Martuscello said facilities should be following rule 6.02, which states DOCCS nurses should be used first.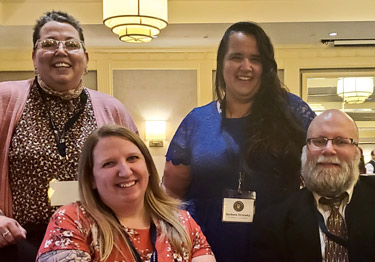 Sandy Derr (Altona Correctional Facility) expressed concern over the decreasing population of incarcerated individuals in facilities. EDC Martuscello reported the population was approximately 30,789 incarcerated individuals, leaving about 8,000 empty beds in the system. Martuscello said the department has been looking at bed consolidations, meaning taking beds or dorms "offline." Consolidating in such a manner leaves areas in the facility available to isolate incarcerated individuals with infectious diseases like COVID, influenza or chicken pox.
Christopher Lanz (Franklin Correctional Facility) reported that one of the positive changes brought about by the Prison Violence Task Force was a modification in the package program and asked administration to provide more information regarding the program. Acting Commissioner Annucci stated there was a need to change the package program and he believes the new program will be safer for all involved. "People are dying because of the packages," he said.  Annucci indicated there were 594 uses of Narcan last year in facilities. The package program was implemented in the Wende hub on May 9, and a follow-up will be conducted with all superintendents in that hub to determine if any changes need to be made. The program is expected to continue to roll out hub-by-hub once the pilot in Wende has been reviewed.
Najieh Isaac (Bronx I) voiced concern regarding Parole Officers being utilized as Court Officers. He said they are even given keys to the area while they are there. Deputy Commissioner Marco Ricci said there are plans to post Institutional Safety Officers in these areas and personnel has been contacted for additional staffing. The courts are working with the department to provide a safe work environment for staff. Workplace Violence Assessments are being conducted in the newly assigned court areas and recommendations will be shared with the courts. Ricci emphasized staff safety is of utmost importance.
Gabriela Franklyn (Community Supervision) said that the "Less is More" parole law has literally created chaos in the courts and cities and is hindering the safety of Parole Revocation Specialists (PRS) and Hearing Officers because they do not have weapons. Administration stated they would have an internal discussion about the issue. Under the current guidelines, PRS do not have the right to carry a weapon and the department cannot issue a state weapon on a permit.
Selina Reed (Peekskill Area Office) inquired if Area Offices would be closed or merged or consolidated and, if so, is there any information as to which offices would be affected and when would it take place?
Marco said that the initial projection for reduction in parolees was between 6,000-8,000, and that in actuality, it will be more like between 10,000-11,000. He emphasized that no one should panic about consolidation. He said he will look at balance when replacing staff to "right-size" regions as they manage the change in the parolee population.
Additional questions related to training in various areas. Deputy Commissioner Jeff McKoy stated there will be more training for staff on the Residential Rehabilitation Unit process. DC Ricci discussed possible training in prisoner transport, stating we "do not want to be in that business in the first place," but the reality is sometimes DOCC has no other choice. Ricci also discussed additional training along the lines of annual Officer Street Survival Training.
Statewide Labor Management Chair Steve Drake said he "appreciates the open dialogue PEF continues to have with administration and stressed it would not be possible without cooperation from both management and labor." He stated it is important to make use of labor management on a local level, but emphasized that he and the statewide labor management team are "only an e-mail or phone call away" if issues cannot be addressed at the local level or there are exigent circumstances.  Drake said he speaks with EDC Martuscello "at a minimum weekly, usually more often than that," a statement confirmed by Martuscello.