June 17, 2022 — Parole officers Shawn Reynolds of Corning and Karen Hoth of Dunkirk received the Medal of Honor at the Department of Corrections and Community Supervision (DOCCS) medal ceremony June 9 at the training academy in Albany.  
Parole officers Rachel Johnson of Fort Ann; Mary Jenkins of Ballston Lake; and Aaron Lang of Corinth; and Stacey Dorsey, a parole service program specialist, of New York City, received medals of merit. 
"Our members work every day to keep our streets safe and assist parolees as they reintegrate into the community," said PEF President Wayne Spence, a long-time parole officer himself. "Some go above and beyond their duties and are deserving of recognition for their heroism. We extend our sincerest thanks to the officers honored with this year's Medals of Honor and Medals of Merit." 
DOCCS leadership praised parole and corrections officers for their professionalism, hard work and dedication to the people of New York state and observed moments of silence at the memorial wall in Albany and at the academy medal ceremony for the 43 men and women who have died in the line of duty since records were kept starting in 1861. 
Medal of Honor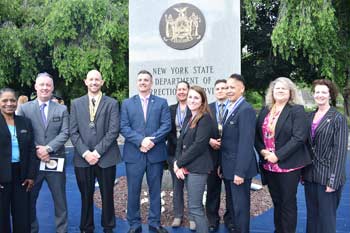 The Medal of Honor is presented to employees whose actions in the line of duty evidence an extraordinary degree of courage, bravery or heroism. 
PEF member and parole officer Shawn Reynolds received the honor for his role in apprehending an absconder wanted in connection with a homicide in North Carolina. 
"Parole Officer Reynolds observed the subject and gave verbal commands for the subject to stop and get on the ground," DOCCS leadership stated. "The subject defied verbal commands and began exchanging gunfire with the officers and pointed his firearm at Reynolds, who fired his state-issued weapon as the subject continued to attempt to exchange gunfire with the officers. 
"The subject was shot and ultimately succumbed to his injuries," he continued. "Without hesitation, Reynolds responded to a deadly situation in an effort to protect other members of law enforcement and the citizens of Elmira, N.Y."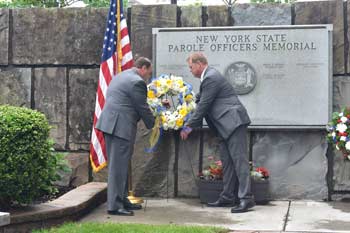 Parole officer and PEF member Karen Hoth received the Medal of Honor for her role in talking down a releasee who had attempted to murder his aunt, led police on a high-speed chase with a female passenger; and was holding a gun to the women's head, armed with a knife. 
SEE COMMUNICATOR COVERAGE FROM JULY 2021: PEF parole officer talks down parolee during tense hostage standoff in western New York 
Hoth offered to talk to the suspect and after several hours of negotiations, she was able to encourage him to release the hostage.  
"Still armed with a knife and a gun, Hoth maintained communications and was able to successfully encourage him to toss the firearm and surrender himself," DOCCS leadership said. 
Medal of Merit 
The Medal of Merit is presented to employees for extraordinary performance in the line of duty or for an exceptional contribution to the department. 
PEF parole officers Rachel Johnson, Mary Jenkins and Aaron Lang, from the Northeast Bureau, responded to a call that a parolee had unlawfully taken his biological son from a foster care setting and was refusing to return the child. 
The officers "responded quickly to the situation and within a few hours, located the parolee who refused to disclose the location of his son. The parole officers conducted a lawful search of the parolee's smart phone and discovered text messages between the parolee and his new girlfriend.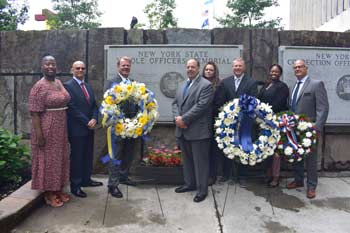 "This led PO Johnson to perform a more thorough media search of the parolee's girlfriend and, as a result, found the infant safe and sound at her residence," DOCCS said. The child was returned safely to the Clinton County Department of Social Services. 
When Reentry Manager Stacey Dorsey, in the Manhattan/Staten Island Region, observed an unknown male screaming toward the windows of the office for his parole officer to come and help him, she asked him what was wrong. 
The man said he needed his parole officer to take him to the hospital and he did not want to hurt himself. 
"Dorsey began speaking with the individual, trying to calm him down as he was in obvious distress," DOCCS stated. "[She] persuaded him to stop hurting himself. Dorsey's quick thinking and compassionate intervention stopped a distressed releasee from severely harming himself and got him the help that he so desperately needed." 
DOCCS Acting Commissioner Anthony J. Annucci praised the work of these members. 
"In unison with Governor Kathy Hochul and Deputy Secretary for Public Safety Marcos Soler, I extend my sincerest gratitude, not only to the people we recognize here today, but also to the almost 26,000 DOCCS employees statewide, who day-in and day-out, do their jobs with the utmost pride, professionalism and dedication," he said.