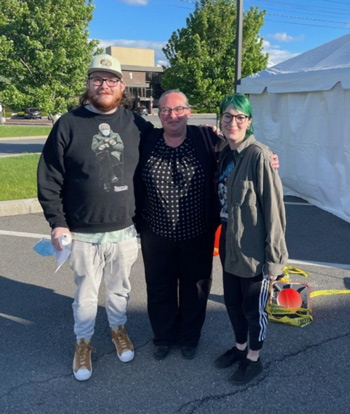 June 17, 2022 — Since December 8, 2021, there have been union wins at 150 Starbucks stores across the country, according to Starbucks Workers United. 
Once of them is just down the road from PEF Headquarters on Troy-Schenectady Road in Latham. 
Wage increases outpaced by inflation and a lack of opportunities for advancement inspired Starbucks employee James Schenk to contact Starbucks Workers United and start the ball rolling for a union at the Latham Plaza store. 
"The biggest motivation for me, and everyone who voted has different reasons, but for me it was stagnation of my livelihood and opportunities," Schenk said. "Plus, the cost of living has gone up so dramatically over the last year and our raises and compensation haven't done anything to reflect that." 
With his raise coming in below inflation, Schenk is effectively making less this year than he was last year. 
"For me, it was really financial security," he added, pointing out that it is the staff in locations across the country that make the company successful. "Without the baristas, there is no Starbucks. The baristas are the ones doing the lion's share of work and receiving very little of the benefits." 
Schenk said Starbucks management often sends down directives that staff cannot accommodate due to short staffing.  
"There are not enough baristas to achieve drive-thru goals; they are cutting people's hours," he said. "That's a big issue now, that insecurity and concern they aren't going to be able to provide for their families." 
Now that the store voted to unionize, the next step is negotiating their first contract. And that isn't going to be as easy as it may sound. 
"Howard Schultz (Starbucks' CEO) has made it clear that he is not going to recognize the stores that have voted to unionize," Schenk said.  
In an interview with the The New York Times, when asked if he would ever embrace the union, Schultz stated simply: "No." 
That won't stop Starbucks Workers United, which filed charges against Starbucks with the National Labor Relations Board.