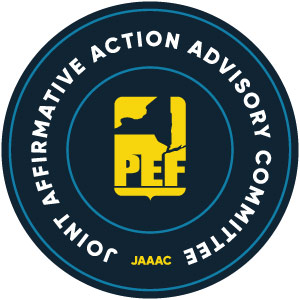 June 17, 2022 — Workplace discrimination is banned in the PEF contract.  Nevertheless, some members feel they do experience it, especially when they apply for a promotion or a transfer. 
Article 36 of the contract between PEF and the state is relatively short.  It says PEF will admit all state employees in the Professional, Scientific and Technical (PS&T) bargaining unit to membership and it will represent them without regard to race, creed, color, national origin, age, sex or handicap.   
Article 36 further says the state will continue its established policy against all forms of illegal discrimination.   
Then, it says that PEF and the state shall form a Joint Affirmative Action Advisory Committee (JAAAC) to develop appropriate recommendations on matters of mutual interest in the areas of equal employment and affirmative action. 
PEF has appointed seven members to represent it on this joint committee.  The three PEF co-chairs are Vice President Darlene Williams, Tamara Martin and Mohammed Chowdhury.  The union also is represented by Bellew McManus, Ade Oluwo, Cheryl Wallace and retiree Charles Roland.  The committee meets quarterly.   
"We want people to realize we are active, engaged and achieving positive results for members.  The committee is doing a great job,'" Williams said. 
The JAAAC focuses on situations where a member or group of members feel they are being illegally discriminated against or harassed.  Williams said the committee is aided by consultant Eric Josey in helping members file timely complaints with the correct governmental bodies.   
"We often use the state Freedom of Information Law to gather evidence, because we need to prove their treatment is discriminatory," Williams said.  "We may need statistics or data and it might need to come from the agency.  The agencies aren't pushing back, but they are really slow to move.  They say they will look into it." 
Williams cited the example of a case where management wouldn't let a member sit for a promotion exam.  "I don't think they ever gave her an excuse for why she couldn't take it," Williams said.  "We 'FOILed' the statistics on promotions at that agency and found that promotions of minorities was so low.  We inundated them with evidence. All of a sudden, they allowed her to take the exam. This is outright racism." 
Members who feel they are experiencing discrimination should go first to their PEF field representative who can give them a complaint form to complete.  Then the committee will help them navigate the paperwork. 
"Our committee members are committed to ending injustice," Williams said.  "As people are beginning to realize that we are there to help them, the number of complaints we are receiving from them is going up.  We want to be part of making real change for the future.  We want to shine a light on people who are suffering silently."