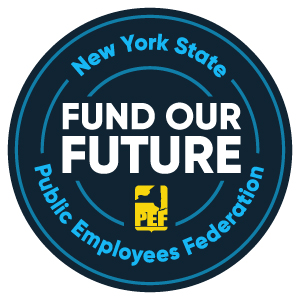 June 17, 2022 — Bills that passed both the state Senate and Assembly in the 2022 session showed the lawmakers were paying attention to many of the concerns PEF shared with them. 
First, the governor included language borrowed from the union's "Fund Our Future" campaign  in parts of her proposed Executive Budget in January and now the Legislature has passed bills that PEF supports.  All-in-all, it's been an encouraging start to the year.  
State legislators passed a bill that puts teeth in the existing law that aims to block state agencies from ordering nurses to work overtime.  The Employer Sanction for Violation of Mandatory Overtime authorizes a penalty of $1,000 to $3,000 per violation for employers who mandate non-emergency OT for nurses.  It also requires the employer to pay the nurse who is mandated an additional 15% of the OT payment. 
A second bill that passed limits employers' use of emergencies to excuse the mandatory OT.  An emergency for a natural disaster may last a maximum of three days, and up to 30 days for a declared emergency. 
Another important bill that passed both houses requires state agencies to conduct a cost-benefit analysis to determine if it would be equal or less expensive to let state employees do work instead of awarding it to private contractors or consultants.  The requirement would apply to services with a price tag of  $1 million or more. 
PEF also was successful in gaining passage of legislation requiring the state Office for People with Developmental Disabilities to publicly report before December 31, 2022, the number and nature of state-operated residential facilities serving individuals with developmental disabilities, a staffing census at such facilities and the status of hiring new staff for them. 
Passing both houses of the state Legislature is clearing the first big hurdle to making these provisions state law.  The next hurdle is getting the governor to sign these bills into law.   
These are just a few of more than 20 bills covering a wide range of issues important to PEF members that passed both houses and will go to the governor for her consideration in the coming months.   
PEF President Wayne Spence credited the union's Fund Our Future campaign for focusing the efforts of PEF leaders, staff and members on getting important information to legislators and getting the bills passed by both houses. 
"Our members sent more than 7,000 letters and made thousands of phone calls to legislators in support of our legislative priorities," said Spence, who gave special thanks to members of PEF's political action committees "for their support and tireless work advocating on behalf of these important bills."  
He also expressed deep appreciation to state Senate Majority Leader Andrea Stewart-Cousins, Assembly Speaker Carl Heastie and the legislative majorities in both houses for their support of these and other PEF issues. 
With the question of the governor's support for each bill pending, Spence cautioned PEF members not to assume the battle is over and won.  "We will be advocating for the governor to sign these important bills into law, and we will ask for your help with that effort as the bills are sent to her desk," he said.